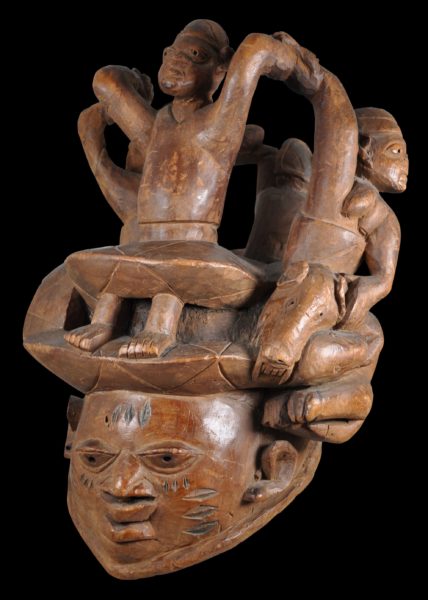 6436
Enquiry about object: 6436
Fine, Nigerian Yoruba Gelede Dance Headdress
Yoruba People, Nigeria circa 1920
height: 46cm, length: 27cm, width: 31cm, weight: 1,765g
Provenance
formerly in the collection of the late Dr James Bynon, lecturer in Berber studies, School of Oriental & African Studies, University College London.
'The eyes that have seen Gelede have seen the ultimate spectacle.' – a Yoruba saying.
This fine Gelede wooden headdress, of a single piece of wood, has been carved with a male human face. It is carved with classical Yoruba facial features:  heavy eyelids, bulgy almond-shaped eyes, a flared nose and compressed full lips. The pupils and nostrils are roughly pierced with circular holes. Scarification lines (pele) are incised on the forehead and both cheeks. Many communities in south-western Yorubaland regard scarification lines as 'gems' on the human face. The overall facial features exemplify supremacy, rigour and calm – all necessary characteristics for a wise Yoruba elder.
The upper part of the headdress depicts a fighting scene where a warthog with its sharp teeth grabs at the neck of a gigantic serpent. The serpent's body encircles four human figures: a man, two women, and a child. They hold their arms raised, in a celebratory, victorious and dancing composition.
The western Yoruba people practise the Efe/Gelede cult to celebrate the mystical power (ashe) of elderly women. Traditionally, they believe that the older women possess power that can be used for creative or destructive purposes. The Gelede masked performance is a way of sustaining life through creating a social bond with the elderly women, who are generally referred to as 'our mothers' (awon iya wa). By having pleased 'our mothers', there will be peace in the community and the land will be blessed by rain and fertile soil.
The Gelede festival is widely celebrated in south-western Nigeria and is thought to have its origins in the late eighteenth century. It usually takes place in the main marketplace, and at the time of vegetative renewal, between March and May, when the rains arrive. The Gelede masked performance involves carefully choreographed dance, with pairs of men wearing similar headdresses and elaborate costumes masquerade as women to honor and entertain 'our mothers'.
The headdresses, such as the example here,are worn at an angle on top of the head. The Gelede dancers, who are always men, are clad in costumes of  layers of multicoloured cloths. The identity of the dancer is not hidden – his face can be seen through transparent cloth worn over the face. Unlike many other masked performances, the dancers are allowed to unmask in public. The dancer's name may be given in the song which accompanies his act, which may include praise or criticism for his performance. The harmony and balance shown by good dancers symbolise social perfection. Gelede dancers also perform whenever a member of the society dies. During the performance, each pair of dancers comes forward in turn and moves in intricate dance steps to a drum rhythm. They dance in duet in swift jerky movements that resemble the movements of birds and animals. Drumming and singing are essential features of such performances.
The headdress here has a good patina from obvious age and use. It has a natural honey golden patina. It is in its original condition. There are no losses and no repairs. It is well carved, and has an excellent sculptural presence. It comes with a wooden stand (which itself has age) which was commissioned by a previous owner.
References
Bacquart, J. B., The Tribal Arts of Africa, Thames & Hudson, 1998.
Drewal, H. J., 'Efe: Voiced Power and Pageantry', African Arts, Winter, vol. 7, 1974.
Drewal, H. J. & Drewal, M. T., Gelede: Art and Female Power among the Yoruba, Indiana University Press, 1983.
Fagg, W. & Pemberton, J. III., Yoruba: Sculpture of West Africa, Collins, 1982.
Lawal, B., The Gelede Spectacle: Art, Gender, and Social Harmony in an African Culture, University of Washington Press, 1996.
Roberts, A. F., Animals In African Art: From the Familiar to the Marvelous, Prestel, 1995.