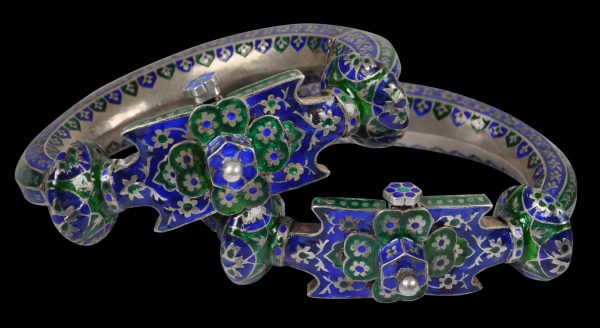 5998
Enquiry about object: 5998
Fine Pair of Champleve Enamel Silver Anklets (Jhanhjar)
Punjab, India/Pakistan 19th century
approximate outer diameter of each: 12.6cm, combined weight: 522g
This spectacular pair of anklets is from the Punjab area of what is now Pakistan. Such anklets were worn at weddings and other important events. They are of hollow sheet silver and have been chased and then decorated with green and dark blue enamel.
The anklets are hinged and open by means of a pull-out clip. The hoops are decorated on the outsides with rows of flowers coloured in alternating green and blue enamel. The interiors of the hoops are decorated with zig-zag and geometric bands.
The faces of the anklets are rectangular with large, raised flower finials.
Related pairs are illustrated in Geoffroy-Schneiter (2011, p. 76) and van Cutsem (2001, p. 162).
The two are in fine condition. There are minor restorations to the enamel (most extant examples do have losses to the enamel.)
References
van Cutsem, A., A World of Bracelets: Africa, Asia, Oceania, America, Skira, 2002.
Geoffroy-Schneiter, B., Asian Jewellery: Ethnic Rings, Bracelets, Necklaces, Earrings, Belts, Head Ornaments, Skira, 2011.