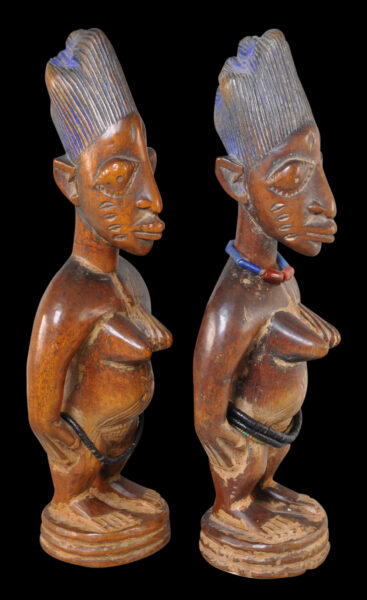 6960
Enquiry about object: 6960
Fine Pair of Oyo Yoruba Ibeji Twins
Yoruba People, Oyo, Igbuke Region, Nigeria late 19th century-early 20th century
height: approximately 27.1cm, combined weight: 563g
– scroll down to see further images –
This pair of female Ere Ibeji twins have marvellous, lustrous patinas, with contours softened from handling. Their significant age is obvious. Also, they are a clear pair and are essentially identical.
Both stand with hands on hips, legs apart, and with protruding breasts. Their beautifully rendered faces are characteristically long, with wide but sleepy almond-shaped eyes; flared nostrils; full broad and protruding lips; and strong ears carved towards the backs of the heads. The eyes are particularly bulging and have heavy, thick eyelids decorated with incised eye lashes. Both have large heads: the over-sized head is deliberate – the head is where the spirit resides. Among the Yoruba, the over-sized head is associated with one's destiny, and can be a measure of one's likely success or failure.
The scarification markings are particularly interesting and extensive. There are vertical marks on the foreheads, four horizonal marks down each cheek, three vertical marks that run from the left shoulder and over the left breast, three radiating marks from beneath the left breast, two horizontal zig-zag marks across the left of the upper abdomen, and then three sets of three lines radiating downwards from the naval.
The raised coiffure of each resembles a tiered crown. The top of each coiffure is arranged intricately into a cross. The hair is delineated by finely carved grooves and coloured with Rickett's Blue.
Each stands on a raised, tiered, round platform. (There is some minor termite loss to the back of one.)
One wears a necklace of multi-coloured glass barrel trade beads, and from the waist a single strand of tiny glass beads and a double strand of fine, dark, coconut shell disks. The other wears a similar, single strand of coconut shell disks.
Each has an incised triangular patch of pubic hair.
The toes and other crevices of each are caked with  tukula powder. This powder was ground from tukula wood and was both a cosmetic and a protection from insects and from the sun. Tukula also was believed to have healing properties and magical powers.
Yoruba people have the highest dizygotic (non-identical) twinning rate in the world. The birth of twins amongst Yoruba women are four times more likely than anywhere else. Unfortunately, the mortality rate of the twins also was high. Ere Ibeji figures were carved as spiritual representations of the twins who died. These figures were commissioned from village carvers, who were also often highly trained priests (Babalawo). The images were carved as adults, rather than as the deceased infants. It is common in African sculpture that representations of children are made with adult-like qualities, including elaborate coiffures, scarifications on the face, fully developed breasts (on female figures), pubic hair and prominent genitalia. They were usually placed on a shrine dedicated to Elegba (a divine messenger deity) in the living area of the house and fed, bathed and dressed regularly. These figures were particularly special to the mother, who kept them close to her and caressed the figures in a loving manner, hence the wear that genuinely old examples exhibit.
A similar Oyo pair with similar wear, age and patina were offered as lot 55 by Sotheby's New York, 'African and Oceanic Art', November 15, 2002.
The example here are in excellent condition. As mentioned, the base of one has some minor termite loss at the back. An old explanatory label is attached to the base of one.
References
Bacquart, J. B., The Tribal Arts of Africa, Thames & Hudson, 1998.
Fagg, W. and J. Pemberton, J., Yoruba: Sculpture of West Africa, Collins, 1982.
Rowland, A., H.J. Drewal, and J. Pemberton, Yoruba: Art and Aesthetics,Museum Rietberg, Zurich, 1991.