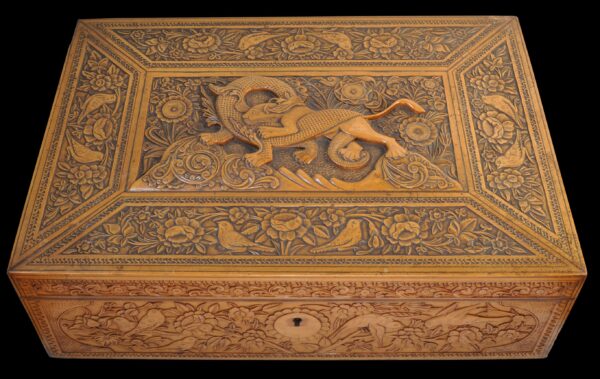 9333
Enquiry about object: 9333
Fine, Persian Carved Wooden Box
Abadeh, Qajar Iran (Persia) 1850-1890
height: 11.7cm, width: 16.8cm, depth: 25.4cm, weight: 2,265g
This splendidly carved wooden box with a hinged lid is from the town of Abadeh in northern Qajar Iran (Persia), a town that became famous for its woodcarving in the 19th century, partly on account of abundant nearby wooded forests.
Of rectangular form, the sides are carved with decorated with birds and feline-like creatures amid flowers and foliage. The flat lid is beautifully carved with a central motif of a lion and a dragon locked in a struggle within a fine, wide border of birds and flowers.
Carved most probably from pearwood, the schema of the carving relates to the decoration employed on18th and 19th century lacquered papier-mache mirror cases bindings used on Persian manuscripts and books. Typically these comprised a border with foliage and birds and then some central motif.
The interior is lined with brown silk – most probably the box has been subsequently used as a sewing box.
See a less-well carved example in London's Victoria & Albert Museum. And another sold at Christie's in 2015.
The fine carving can be found on a variety of Iranian wood objects, including spoons, the handles of dervish bowls, boxes, and Koran stands – all produced in Abadeh or nearby.
The box here is in very fine condition and has the most beautiful patina and colour from age and use.
References
Carey, M., Persian Art: Collecting the Arts of Iran for the V&A, V&A Publishing, 2017.
Kelenyi, B., & I. Szanto, Artisans at the Crossroads: Persian Arts of the Qajar Period (1796-1925), Ferenc Hopp Museum of Eastern Asiatic Arts, Budapest, 2010.