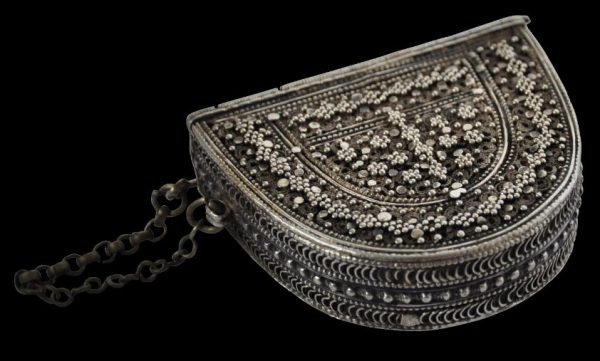 3984
Enquiry about object: 3984
Fine Silver Belt Purse (Mahfaza)
San'a, Yemen 19th century
height: 6.2cm, width: 8cm, thickness: 1.9cm, weight: 140g
Provenance
private collection, UK.
This silver horseshoe-shaped box-like item served as a purse which was attached to the belt of a Yemeni man. The reverse is of sheet silver with a belt clip, the sides are decorated with silver wire and granulation applique work, and the top is richly decorated with silver filigree coils, small silver applied plaques, and granulation, all arrayed in relief, in geometric patterns.
The top edge is hinged, allowing access to the inside. A pin runs through eyelets in the non-hinged side and this is connected to the box by means of a chain.
Seiwert (2009, p. 321) and Hoek et al (2004, p. 69) illustrate several related examples.
The purse is very decorative and in excellent condition.
References
Hoek, C., et al, Ethnic Jewellery: From Africa, Asia and Pacific Islands, Pepin Press, 2004.
Seiwert, W.D., Jewellery from the Orient: Treasures from the Bir Collection, Arnoldsche Art Publishers, 2009.