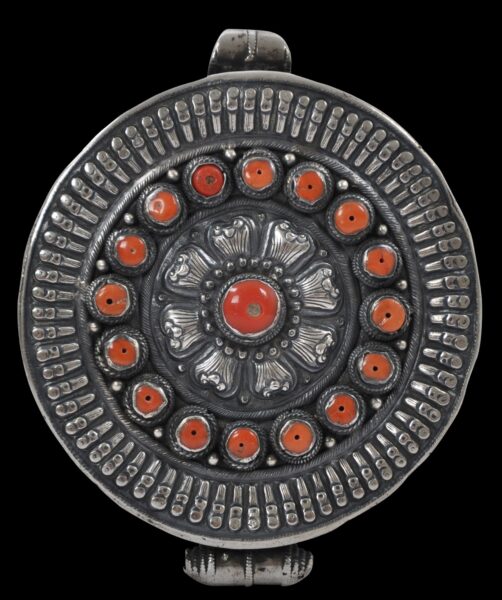 8853
Enquiry about object: 8853
Fine Tibetan Lotus-form Silver & Coral Ga'u Box
Tibet 19th century or earlier
length: 10.8cm, diameter: 9cm, depth: 1.7cm, weight: 130g
This beautiful amulet box or ga'u from Tibet (similar examples were worn in Bhutan) is decorated with a lotus flower pattern and includes a central coral cabochon and sixteen other coral cabochons arrayed in a circular format around the central coral. It comprises a silver front and sides and a copper back plate. There is a hoop at the top for suspension around the neck and another at the bottom to allow more chains to be suspended for decoration.
The box has a marvellous patina and very clear age.  Both suspension hoops show considerable wear and the copper backplate on the reverse has been worn through in places from decades of having been worn.
Ga'u boxes were worn by men and women in Tibet and in other parts of the Buddhist Himalayas as protective amulet cases. Usually, they were worn suspended from the neck. They would contain a variety of precious and protective items such as parchment inscribed with mantras and cloth perhaps from the robe of an esteemed monk.
The is an especially beautiful ga'u box in unusual form.
A ga'u with similar flower decoration is illustrated in Beringen (2006, p. 212).
References
Beringen, J. et al, The Art of Silver Jewellery: From the Minorities of China, the Golden Triangle, Mongolia and Tibet – The Rene van der Star Collection, Skira, 2006.
Geoffrey-Schneiter, B., Bijoux des Toits du Monde de la Chine au Caucase, Foundation Baur, Musee des Artes D'Extreme-Orient/5 Continents, 2012.