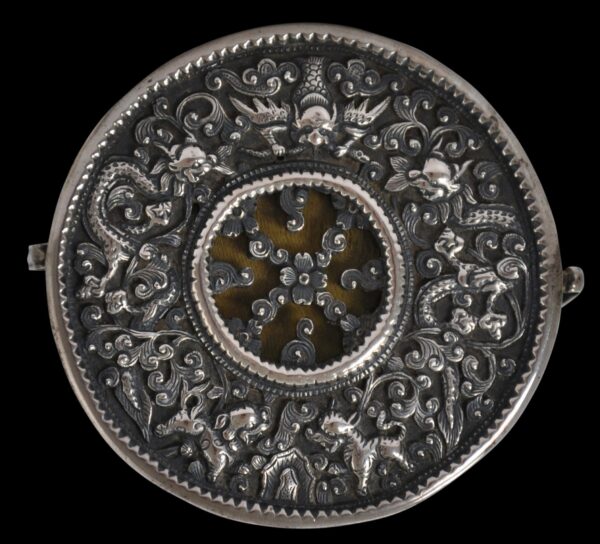 8859
Enquiry about object: 8859
Fine, Tibetan Round Amulet Box (Ga'u)
Eastern Tibet 19th century
width: 7.8cm, diameter: 7cm, depth: 2.6cm, weight: 99g
This particularly fine amulet box or ga'u is of rounded form. The front is of silver; the back plate and sides are of hammered copper. The front has a round 'window' to allow the contents to be viewed. This is decorated with a lattice of silver flower motifs.  The remainder of the front is beautifully chased with a pair of dragons, a garuda in flight with a serpent in its beak, and other Tibetan-Himalayan motifs all against a fine leafy scrolls.
On each side of the box is a silver, squarish lug through which leather straps would have been threaded to allow the box to be attached to the owner's clothing.
The interior is fitted with a piece of glass to cover the window and retains a segment of orange-coloured textile, possibly a robe portion.
Ga'u boxes were worn by men and women in Tibet and in other parts of the Buddhist Himalayas as protective amulet cases. Usually, they were worn suspended from the neck. They would contain a variety of precious and protective items such as parchment inscribed with mantras, a small figure of a deity, and cloth perhaps from the robe of an esteemed monk.
The example here has a splendid patina and wear. Its age is obvious. It is clear that it has been ritually used and worn.
Similar, though less ornate, examples are  illustrated in Beringen (2006, p. 211), Geoffrey-Schneiter  (2012, p. 64), and Proser (2010, p. 123).
References
Beringen, J. et al, The Art of Silver Jewellery: From the Minorities of China, the Golden Triangle, Mongolia and Tibet – The Rene van der Star Collection, Skira, 2006.
Geoffrey-Schneiter, B., Bijoux des Toits du Monde de la Chine au Caucase, Foundation Baur, Musee des Artes D'Extreme-Orient/5 Continents, 2012.
Proser, A., (ed.), Pilgrimage and Buddhist Art, Asia Society Museum/Yale University Press, 2010.