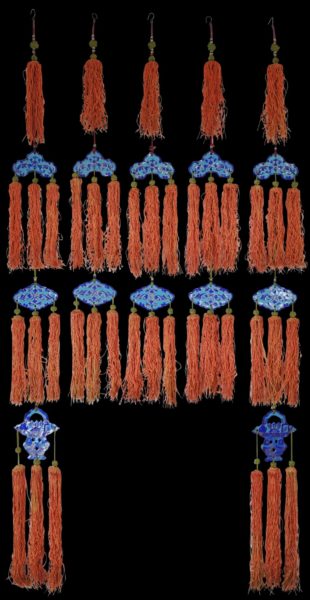 5846
Enquiry about object: 5846
Five Chinese Enamelled Hanging Ornaments
China circa 1850
lengths: 65cm-98cm
This set of splendid hanging ornaments comprises three shorter ornaments of two enamelled plaques each tied to one another with woven red-orange silk cord, and two longer examples comprises three enamelled plaques similarly connected. The enamelling appears to be over thick metal copper sheet.
Each plaque is enamelled on both sides with light and dark blue enamel and cream enamel. The plaques are decorated with peony and other blossoms and pierced baskets decorated with pairs of fish and more blooms.
The ornaments are intended to be decorative. It is possible that they were meant to decorate an altar or even a temple rather than perhaps a wedding chamber which is more likely to have been decorated with red and gold ornaments.
The hangings are in very fine condition. The silk cords are in excellent condition and have retained their brightness and freshness. The enamelling is without chips. One plaque (of twelve) does however have some old, stable cracking but this is barely discernible. They are extremely decorative and hang well. Each has a small hook at the top for easy suspension.
References
Duda, M., Four Centuries of Silver: Personal Adornment in the Qing Dynasty and After, Times Editions, 2002.
Nikles van Osselt, E., Five Blessings: Coded Messages in Chinese Art, Foundation Baur/5 Continents, 2011.