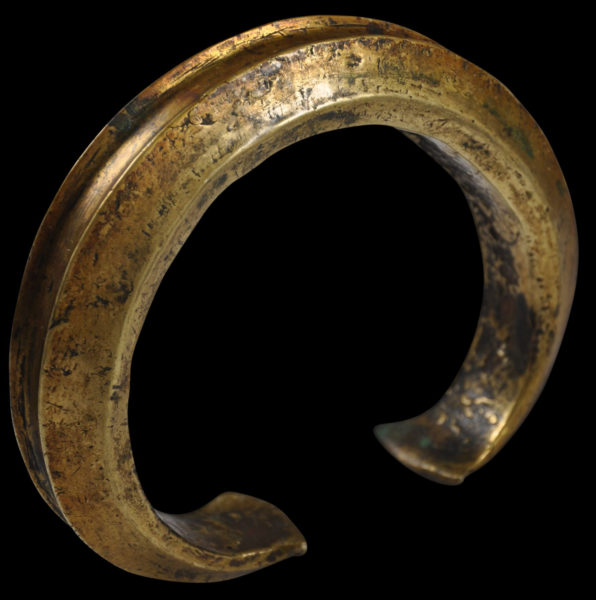 6490
Enquiry about object: 6490
Fang Gilded Bronze Torque
Fang People, Gabon/Cameroon circa 19th century
diameter: at widest point: 19cm, thickness: 3.8cm, weight: 2,217g
Provenance
private collection, London.
This fine, solid-cast bronze torque is from the Fang people of Gabon/Cameroon.
It is cast rather than forged and has been gilded. It is heavy and would have been worn by a Fang woman. (Sometimes, they were also worn by men).  Metal smiths assisted with them being applied to the neck of a woman who thereafter was unable to remove it. The torque was only removed after death.
The example here is of 'C' form and has splendid ribs or fins cast along its length. The ends taper and become broader and are engraved with geometric motifs.
A similar example is illustrated in Ginzberg (2000, p. 222).
The example here is very sculptural and has a wonderful patina and colour.
References
Ballarini, R., The Perfect Form: On the Track of African Tribal Currency, Galleria Africa Curio, 2009.
Bartolomucci, A., African Currency, Editore Africa Art Gallery, 2012.