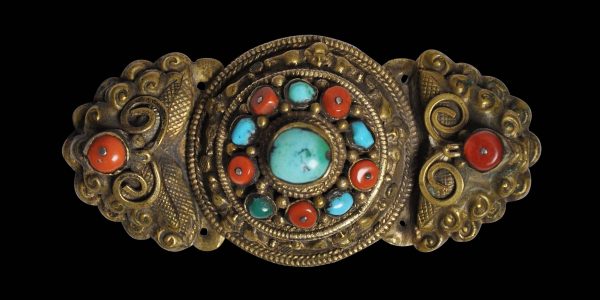 4148
Enquiry about object: 4148
Tibetan Gilded Clasp set with Turquoise & Coral
Central Tibet 19th century
length: 8.3cm, width: 4cm, weight: 50g
Provenance
private collection, London
– scroll down to see further images –
This fastener is of gilded repoussed silver with stylised moth motives with appliqué antennae. The central plaque is embellished with a larger turquoise cabochon around which five smaller coral and five turquoise cabochons (one old replacement) sit in raised settings. Two further coral pieces decorate the panels either side of the central panel. Each piece of coral is fastened by a central rivet. The fastener is drilled with four holes to allow it to be sewn to a cloth belt.
Such clasps are rare. We are aware of only one other – a related example, though not gilded and not quite as elaborate, is on display in the permanent collection of the British Museum.
See here for that example.
The item here is a superb piece with clear age.