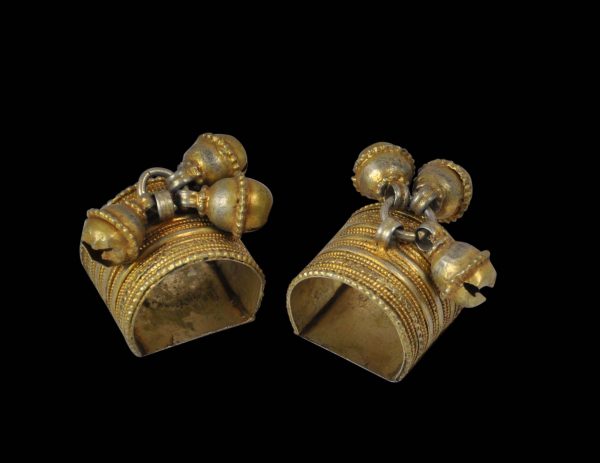 5272
Enquiry about object: 5272
Pair of Omani Gilded Silver Toe Rings with Bells
Oman 19th-early 20th century
width of each: 2.9cm, combined weight: 48g
– scroll down to see further images –
This sculptural pair of rings made for each of the two big toes, is of silver that has been gilded (gold plated).
They would have been worn by a woman in either Yemen or Oman and are based most probably on an Indian prototype.
They are of hoop form, with rounded tops and a flat base. The hoops are decorated with bands of fine granulation work of varying sizes and forms, and each has then been topped with a loop from which three gilded silver bells are suspended.
The pair is in fine condition with no losses or repairs.
References
Rajab, J.S., Silver Jewellery of Oman, Tareq Rajab Museum, 1998.
Ransom, M., Silver Treasures from the Land of Sheba: Regional Yemeni Jewelry, AUC Press, 2014.