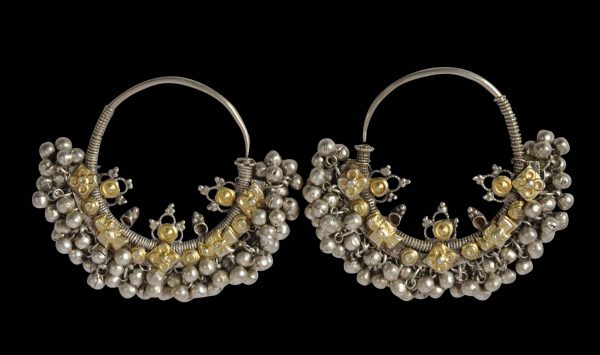 4980
Enquiry about object: 4980
Pair of Part-Gilded Silver Earrings (Dodi Bali)
Thar Desert Region, Bikaner, India early 20th century
width: 7.8cm, diameter of hoop: 4.5cm, combined weight: 76.83g
Provenance
Collection of the late Paul Walter, New York, probably acquired in London.
This style of earring was worn in Bikaner and surrounding areas in the Thar Desert region by Sindhi Muslim women (Ganguly, 2007, p. 213).
They comprise silver hoops with braided silver wire wrapping; applied, fire-gilded plaques – some in the shape of small birds; and copious jangling silver balls. The inner sections of the hoop also are decorated with pointed pinnacles decorated with applied granulation work and gilded plaques.
Both are in fine condition.
References
Ganguly, W., Earrings: Ornamental Identity and Beauty in India, B.R. Publishing Corporation, 2007.