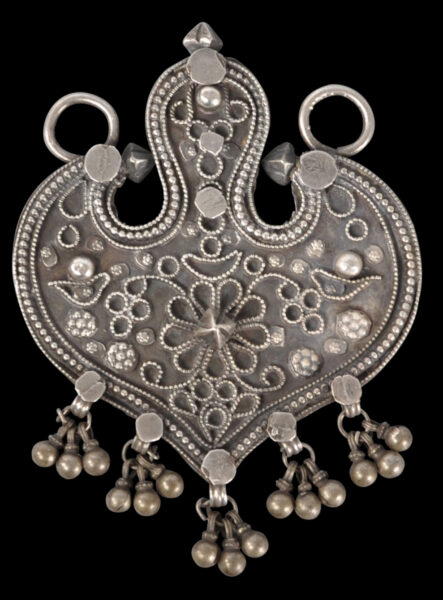 6683
Enquiry about object: 6683
Gujarat Silver Amulet Pendant (Madalio)
Kutch area, Gujarat, India early 20th century
height: 13.2cm, width: 9.9cm, weight: 107g
Provenance
private European collection
This silver talismanic pendant is decorated with applied silver filigree, embossed silver plaques, and silver bells.
Two loops on the top allow the pendant to be suspended from a chain around the neck.
The top of the pendant is surmounted by a solid-cast, bud-like finial. Two other such finials adorn the open fields just beneath the top. A further one is attached the central area of the pendant.
The form of this pendant has several interpretations. One is that it is based on a stylised hooded cobra's head. Another is that it is of arrowhead (chagda) form. And another is that it is based on the revered pipal leaf.
A gold example is illustrated in Seligman & Balakrishnan (2017, p,. 113). A related silver example is illustrated in Untracht (1997, p. 128).
The example here is in fine, wearable condition.
References
Bala Krishnan, U.R., & M.S. Kumar, Dance of the Peacock: Jewellery Traditions of India, India Book House Ltd, 1999.
Seligman, T., & U. R. Balakrishnan, Enduring Splendor: Jewelry of India's Thar Desert, Fowler Museum at UCLA, 2017.
Untracht, O., Traditional Jewelry of India, Thames & Hudson, 1997.