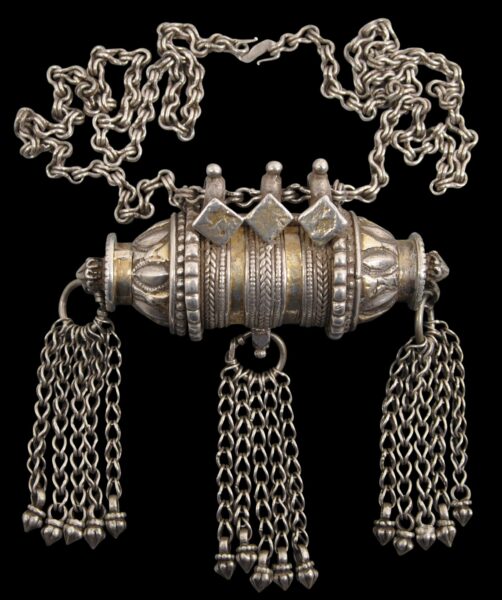 9320
Enquiry about object: 9320
Gujurat-Omani-Zanzibar Part-Gilt Silver Necklace & Talismanic Pendant
Western India, Zanzibar or Oman circa 1900
width of pendant: 11.6cm, length of chain: 97cm, overall weight: 419g
This splendid, wearable and very decorative necklace and amulet box is of heavy, solid silver partly overlaid with gold. It features a hand-made silver chain necklace, and a barrel-shaped amulet box which opens at one end allowing holy scripture and other protective elements to be stored inside. The box is decorated with gold panels, applied silver wire braiding, and petal borders at each end as well as bud-like terminals. Three groups of multiple silver chains are suspended from the amulet box and each of these ends with a solid-silver bud-like terminal.
It is likely that the necklace and box were produced by Indian silversmiths in Gujarat (and possibly Rajasthan) for export to the Omani market, or even to Omani-ruled Zanzibar. Or it was produced by Gujarati silversmiths in Zanzibar or Oman for the local market.
The necklace and box ensemble is robust, with excellent weight. It is a substantial and uncommon piece.
References
Untracht, O., Traditional Jewelry of India, Thames & Hudson, 1997.