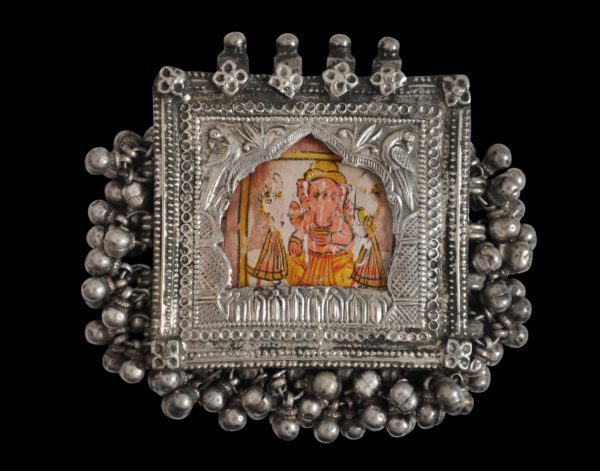 6346
Enquiry about object: 6346
Hindu Pilgrim's Silver Ganesh Amulet Pendant (Chhedi ka Jantar)
Rajasthan, India 19th-early 20th century
dimensions (excluding the spherical dangles): 6.5cm x 6.7cm, weight: 94g
– scroll down to see further images –
This fine and wearable amulet pendant of high-grade silver is from Rajasthan and dates to the early 20th century or before.
It encloses a hand-painted image of Ganesh and two female attendants framed by the silver in a Rajput-style cusped arch, and beneath a thin sheet of glass.
The amulet box is of silver that has been chased on the front with parrots and leafy motifs.
Four eyelets at the top allow for suspension.  Multiple silver spherical bells dangle from the sides and the lower edge.
Such an amulet most probably was acquired from the environs of a temple by a pilgrim and worn thereafter as a keepsake.
A related example is illustrated in Untracht (1997, p. 131).
The piece has splendid patina; its contours have been worn smooth by wear, age and handling. Other than wear and some probable loss to the silver columns over the painting, the amulet is in fine condition. It is very wearable.
References
Untracht, O., Traditional Jewelry of India, Thames & Hudson, 1997.