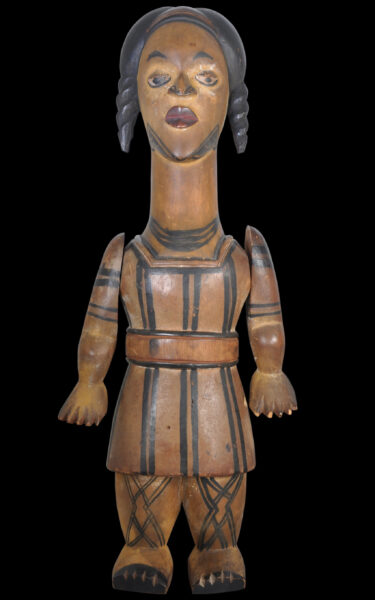 9283
Enquiry about object: 9283
Ibibio Carved Wooden Female Puppet Figure
Ibibio people, coastal Southern Nigeria circa 1920
height: 56cm
This well-carved wooden puppet figure is from the Ibibio people of Nigeria. It is of a women – perhaps a colonial woman.
Such puppets were used in ceremonies in men's secret, socio-religious associations (Ekon).  They were used to tell stories and often played an educative role for society members. But other times they were used to parody village life and to satirise the foibles of prominent members of the community and probably in this case the colonial masters.
The arms here are movable but the rest of the puppet is fixed.  The puppet is carved with a striped dress and leggings and has a particularly sculptural hairstyle. A female Ibibio mask with a similar hairstyle is in Atlanta's High Museum of Art, formerly in the Fred and Rita Richman Collection.
See Robbins (1989, p. 272) for a single related example of an Ibibio Ekon puppet.
The Ibibio people are a coastal people in southern Nigeria. They are mostly found in Akwa Ibom and Cross River States. Prior to the gradual abolition of slavery in Nigeria by British colonial authorities from the mid-1880s, Ibibio society was divided into the freeborn (amanisong),  immigrants (ududung) and slaves (ifn). Slaves were purchased in slave markets or captured through intergroup warfare.
The puppet figure here is in fine condition. There are minor age and use losses to the toes but this seems to be typical. Overall, it is highly decorative and has obvious age.
References
Robbins, W. M. & N. I. Nooter, African Art in American Collections, Smithsonian Institution Press, 1989.