– scroll down to see further images –
Ogba anklets are among the most iconic of items of adornment made in Africa. Very much status symbols, they are of brass and have a large diameter with a metal leg tube in the middle for the ankle. The upper surfaces are highly polished and engraved and punched with geometric patterns. Once on, the anklets were worn at all times and could not be removed by the wearer. A brass smith was needed to hammer the anklet on, but also to remove it. Pieces of fabric were worn between the anklet and the skin, to reduce chafing.
Smiths would hammer these dinnerplate-sized ogba anklets into shape and construct them around the ankles of women from high-ranking Igbo families (the Igbo are a large group in Nigeria, with their own language). Usually, they were only removed to replace them with even larger anklets.  Such anklets restrained the mobility of the women who wore them and as such are very much in the tradition of showing that the woman's husband was successful and wealthy to the point that his wife had no need to engage in physical labour. This same sort of attitude was prevalent in other cultures such as norther China where wealthier women had their feet bound to suggest the wealth of their families.
Walking in them was difficult and the women who did wear them developed a characteristic gait, which was regarded as a sign of feminine beauty and wealth.
The form is based on the sun. The highly polished upper surface also was intended to invoke the sun.
Each anklet was hammered by from a single brass ingot, usually by itinerant brass smiths usually from Awka who had developed a monopoly in producing such anklets. Their diameters range between 22cm and 38cm. Each of the two here have almost exactly the same weight. Grootaers & Eisenburger (2002, p. 151) says that sometimes the basic anklet was fabricated in Birmingham (UK) and then were further shaped, engraved and fitted by local smiths.
The use of these anklets had mostly died out by the 1920s. Pairs are now somewhat rare.
Similar pairs are illustrated in Borel (1994, p. 78),  Wentholt (2017, p. 136) and Grootaers & Eisenburger (2002, p. 151).
The example here are in excellent condition with obvious age.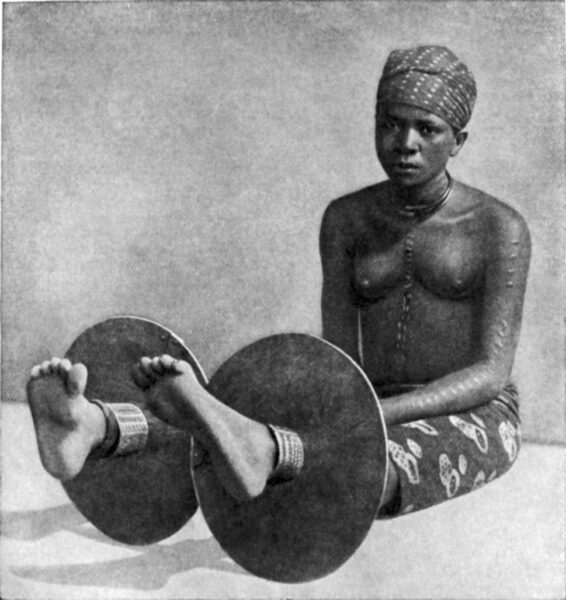 A Igbo woman, wearing ogba anklets, early 20th century.
References
Borel, F., The Splendour of Ethnic Jewelry: From the Colette and Jean-Pierre Ghysels Collection, Thames & Hudson, 1994.
Grootaers, J. L. & I. Eisenburger, Forms of Wonderment: The History and Collections of the Afrika Museum, Berg en Dal, 2002.
Wentholt, A., Glittering as Gold: The Harry and Miep Schillings Collection of West and Central African Bronze Adornments, C. Zwartenkot Art Books, 2017.