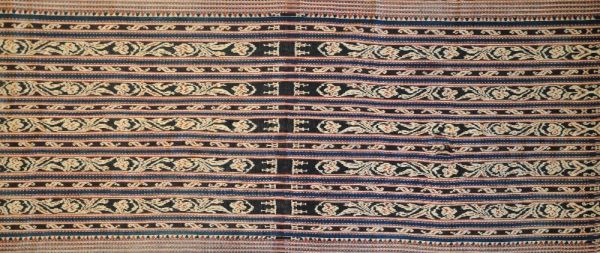 561
Enquiry about object: 561
Ikat Selendang Cloth
'Greater Blossom' Clan, Savu, Eastern Indonesia late 19th century
length: 184cm (not including fringe); width: 90cm
This warp ikat selendang in red, blue, and indigo vegetable dyes is from Savu, a small group of islands in eastern Indonesia. The motif is of Savu's 'Greater Blossom' clan. It comprises two cloths that have been very carefully hand stitched together lengthways. The technique for the handstitching is suggestive of a late 19th century dating.
The Savu islands are low-rainfall and lie between Timor and Sumba. The current population of the islands is about 30,000 and traditionally the people's belief system comprised a mix of early Javanese Hinduism and animism. The designs on ceremonial warp-ikat cloths on the islands indicate clan affiliation.
The two principal clans are the Greater Blossom (Hube Ae) group and the Lesser Blossom (Hube Iki) group. Textiles that make use of the motifs associated with clan membership are kept for ceremonial wear only.
The condition is very good given the age – some fading and some minor fraying to the edges here and there, and some wear to the middle of one of the two main panels. But overall, the textile is robust and stable.
References
Gillow, J., Traditional Indonesian Textiles, Thames & Hudson, 1995.