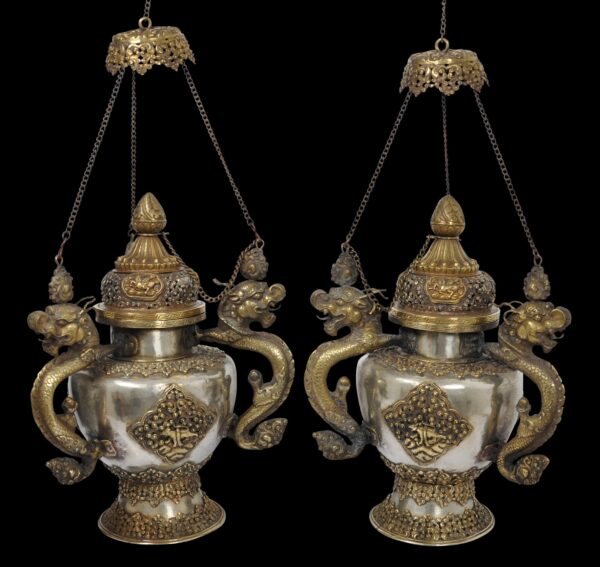 7331
Enquiry about object: 7331
Impressive Pair of Nepalese Hanging Incense Burners
Nepal & Tibet 19th century
height of incence burners (without the chains): 38cm, width (between handles): 27cm, combined weight: 4,947g
This dramatic pair of hanging incense burners is Nepalese-Newar work for both the Nepal and Tibet markets. The bodies are of white metal alloy, most probably mostly nickel, with brass mounts. Each has three handles in the form of curling makaras or dragons with flaming heads and tails. Chains from these allow each burner to be suspended. Each has a pierced cover with a lotus petal dome and bud finial, also connected with a chain to the body. The covers are are also decorated with three cartouches repoussed with a garuda holding a snake in its beak.
Each has a foot so that the burners can be used standing as well as hanging. The feet are flared and decorated with borders of fine, pierced scrollwork.
The bodies are decorated with three elaborate, diamond-shaped cartouches, each with a central Himalayan tiger, surrounded by scrollwork, all in relief.
The hanging chains are suspended from a pierced brass umbrella-like canopy also elaborately decorated. In turn, this is suspended from a single hanging chain.
The interior of each has a pierced cylinder with a pull handle to hold the incense. Each of these is blackened with soot from use.
The style of the burners is one that was used for centuries, with little change, and so many extant examples have been given a wide range of dates, starting from the 17th century.
The pair here are in fine condition. Both can be displayed suspended overhead or standing on a flat surface.
References
Henss, M., Buddhist Ritual Art of Tibet: A Handbook on Ceremonial Objects and Ritual Furnishings in the Tibetan Temple, Arnoldsche, 2020.
Shanghai Museum, Treasures from Snow Mountains: Gems of Tibetan Cultural Relics, Shanghai Museum, 2001.