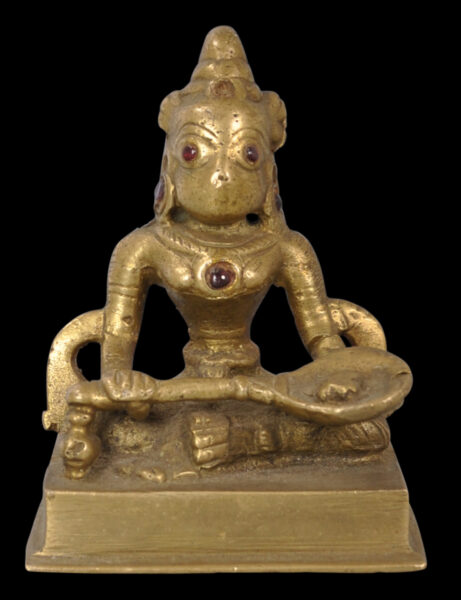 9053
Enquiry about object: 9053
Indian Cast Image of the Seated Annapurna inlaid with Red Stones
Deccan, India 18th century
height: 8.1cm, width: 6.3cm, depth: 4.5cm, weight: 251g
This small cast brass image of Annapurna, a manifestation of Parvati, the wife of Shiva, shows the deity seated, cross-legged on a square plinth. She has a high chignon atop her head, and large round earrings.
The earrings, eyes and breast are inset with red stone cabochons, possibly garnets.
A large cooking ladle rests across her lap. A small food pot is on her right.
Annapurna is the Hindu goddess associated with cooking, food and nourishment and so her identifying attribute is a large spoon or ladle.
The deity is particularly revered in the pilgrimage city of Benares (Varanasi) on the Ganges, and her large ladle is associated with feeding pilgrims.
The image has much ritual prayer (puja) wear, and would have been kept on a household shrine, probably in the kitchen.
References
Aryan, K.C., Folk Bronzes: Of North Western India, Rekha Prakashan, 1973.
Dursum, B., et al, Change and Continuity: Folk and Tribal Art of India, Lowe Art Museum, University of Miami, 2004.