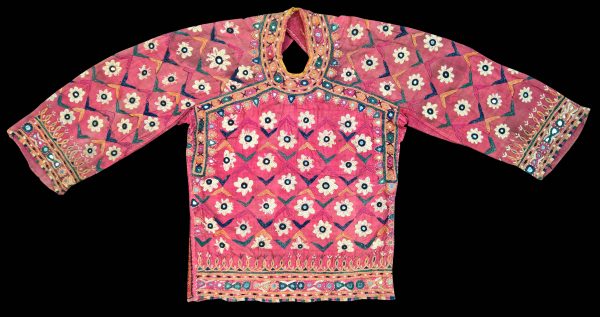 4941
Enquiry about object: 4941
Indian Embroidered & Mirrored Cotton Upper Garment (Choli), with a 19th century Label Card
Northern India 19th century
width from arm to arm: 77cm, length: 37cm
Provenance
old private collection, UK.
This midriff exposing, upper garment is known as a choli. It is a long-armed example.  Cholis were (and still are) worn across India but this example, which is front-covering and ties at the back, is from the northern India.
It would have been worn either by a girl or a young woman beneath a sari. It is of home-spun cotton, dyed with a red vegetable dye, and hand-stitched. It has been richly hand-embroidered with flower and leaf patterns. The centres of each flower as well as other motifs have been filled with very thin, silvered glass fragments.
It is a fine example that dates well into the 19th judging by the remnants of a very old hand-written card which accompanies it. The styling of the card itself is 19th century and includes this charming description: 'Bodice – Hindoo – Red, Embroidered with Looking Glass'. (See below.)
A related, well-preserved example attributed to Kutch held by London's Victoria & Albert Museum is illustrated in Crill (2015, p. 64).
The item is in excellent condition. It is a beautiful, well-preserved piece.
References
Crill, R., (ed.), The Fabric of India, V&A Publishing, 2015.
Pathak, A, Indian Costumes, Roli Books, 2008.
Singh, C. (ed.), Treasures of the Albert Museum, Jaipur, Mapin Publishing, 2009.