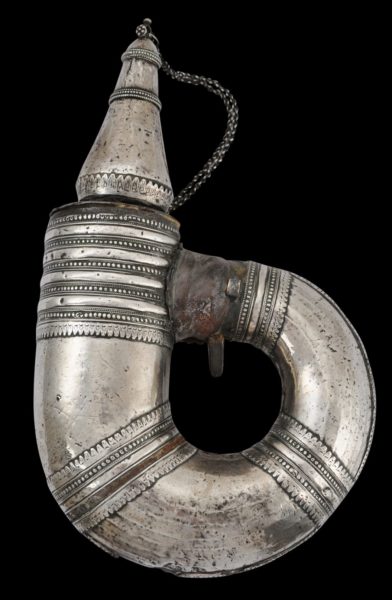 6272
Enquiry about object: 6272
Indian Arab Silver-Clad Powder Flask
Deccan, Indian-Arab; Gulf States & possibly Western India - Indian Ocean circa 18th century
length: 23.6cm, weight: 760g
This large, heavy priming powder flask is of silver, silvered iron, leather, and with sections on the reverse of gold plating. The shape is based on a ram's horn or curved buffalo horn, which was the traditional receptacle used to store priming powder.
It terminates with a conical nozzle and a conical cap that fits over the nozzle, the two being attached by means of a silver double chain.
The flask and cap are decorated with bands of applied granulation and other work. The body also has some gentle gadrooning or faceting which is particularly pleasing.
The reverse shows the iron body as well as four sections that are gilded.
Similar examples are illustrated in Tirri (2003, p. 104), and Stone (1961, p. 103).
These flasks tend to be attributed to a wide area – some are described as being from the Arabian Peninsula, others from western India, and some even to Ottoman Turkey. In truth, they seem to be modelled on Mughal or Deccan prototypes and trade and migration took the form across the Indian Ocean. A similar example in the UK's Royal Collection is attributed to the Deccan.
The example here is sculptural, has clear age and wear, and is in fine condition given its age.
References
Alexander, D., Islamic Arms and Armor: in the Metropolitan Museum of Art, The Metropolitan Museum of Art, New York, 2015.
Stone, G.C., A Glossary of the Construction, Decoration and Use of Arms and Armor in all Countries and in all Times, first published in 1934, Jack Brussel, 1961.
Tirri, A.C., Islamic Weapons: Maghrib to Moghul, Indigo Publishing, 2003.