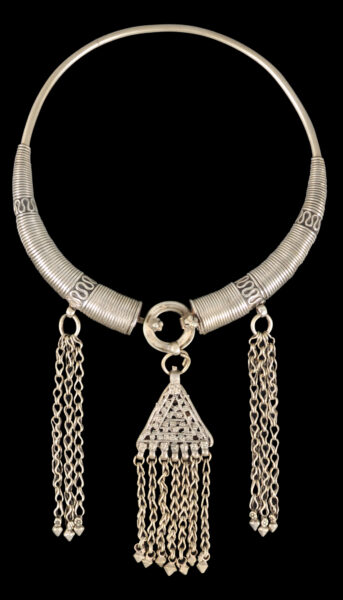 5544
Enquiry about object: 5544
Indian Banjara Silver Torque
Lambadi or Banjara and Sugali People, Andhra Pradesh, India early 20th century
diameter: 17.4cm x 17.1cm, weight: 371g
Provenance
private European collection
This large silver-alloy torque or necklace comprises a round, hollow tube that widens at the ends, the lower halves of which are wrapped with silver wire in various designs. The two arms of the torque are kept together with a round loop from which a pieced triangular pendant is suspended. Chains with solid-cast terminals are suspended from this. Further chains are suspended on either side from the arms of the torque.
Such torques were worn as part of the wedding jewellery (and thereafter as a sign of being married) by the traditionally nomadic Hindu Lambadi or Banjara and Sugali women of Andhra Pradesh.
A similar example is illustrated in Leurquin (2003, p. 223). Another is published in Untracht (1997, p. 230).
References
Leurquin, A., A World of Necklaces: Africa, Asia, Oceania, America from the Ghysels Collection, Skira, 2003.
Untracht, O., Traditional Jewelry of India, Thames & Hudson, 1997.