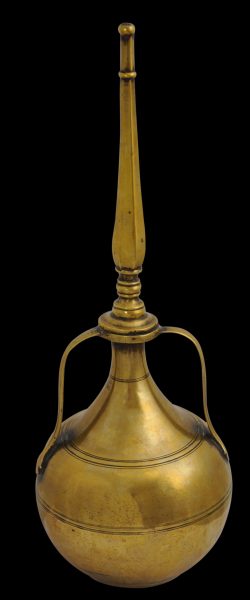 2870
Enquiry about object: 2870
Indian Brass Lamp Oil Container
South India 18th-19th century
18th-19th century
This very tall, elegant container is of turned and cast brass. It has a spherical base, two handles and a long, tapering faceted, hexagonal spout. Examples were used in Kerala and Tamil Nadu but probably in the Deccan as well. This example is particularly fine.
A silver example which is 43cm tall is illustrated in Terlinden (1987, p, 180). Terlinden comments that such vessels were used in palaces and elsewhere to re-fill both oil lamps.
A vessel of similar form is in the David Collection and illustrated in von Folsach (2001, p. 333). The David example is described as a bronze rosewater sprinkler and attributed to 17th century India.
The example here is in fine condition with an appealing, honeyed patina.
References
von Folsach, K., Art from the World of Islam: in the David Collection,2001.
Terlinden, C., Mughal Silver Magnificence,Antalga, 1987.