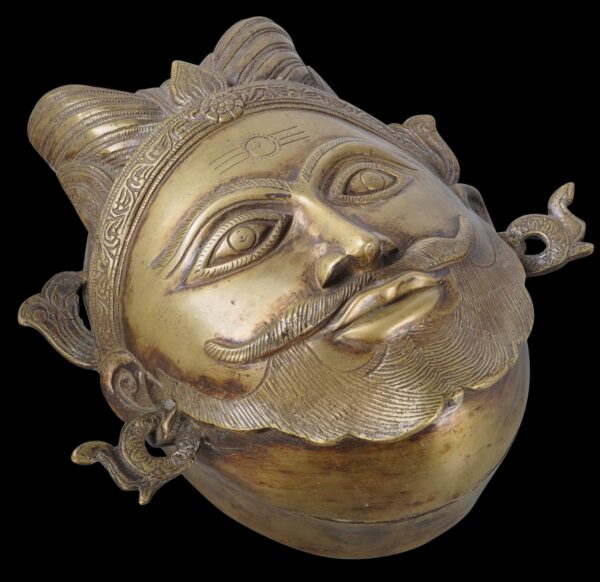 8845
Enquiry about object: 8845
Indian Brass Shaivite Temple Offering Box
Rajasthan, India 19th century
length: approximately 24.5cm, width: approximately 24cm, depth: 15.5cm, weight: 5,003g
Provenance
private collection, UK
– scroll down to see further images –
This unusual item from Rajasthan is a large, cast brass oval-shaped box with a hinged, domed cover designed to hold offerings to be taken to the temple. The offerings could be for the deities or even food to be presented to the temple staff and priests.
It comprises the base and a hinged lid and the cover is in the form, in relief, of an almost life-sized version of the head of what is likely to be a local  Rajasthan deified hero or ruler.
The face has a luxuriant beard and moustache, with hair piled high upon the head in two buns. A forehead band marks out the hairline and is chased with floral and leaf motifs. The large circular earrings are typical of those that used to be worn by men in Rajasthan.
The forehead is marked with a prominent Shaivite tilaka motif, identifying the face and also the item as belong Shaivite strand of Hinduism, meaning that the vessel was intended for use in ritual worship of Shiva.
Both ears have earrings but one is floral and for a woman, the other is typical of those that used to be worn by men in Rajasthan. The hair is beautifully delineated on both sides.
The box has been beautifully cast and is in excellent condition. It is a rare and special item, and only one of two that we have seen.