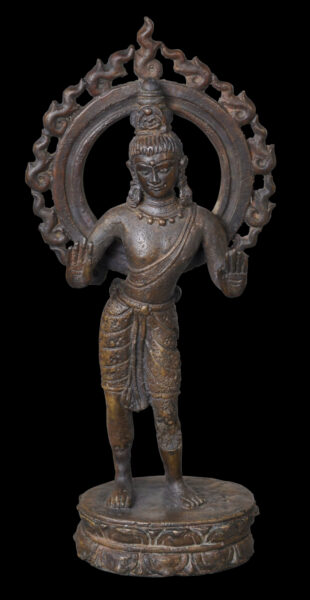 7237
Enquiry about object: 7237
Early Indian Bronze Standing Avalokiteshvara
Northern India 8th-9th century
height: 20.2cm, width: 9cm, depth: 4cm, weight: 692g
Provenance
private collection, London, UK.
– scroll down to see further images –
This rare and elegant Indian cast bronze image of Avalokiteshvara, the Bodhisattva of Infinite Compassion, from the 8th-9th century shows the deity standing on an oval, double-lotus pedestal with both hands in the Abhaya Mudra or 'dispelling fear' pose.
The diadem of the crown bears a seated image of Amitabha (the Buddha of the past and transcendental Buddha of Mahayana Buddhism). The figure wears a finely-rendered beaded necklace, long earrings, a double sacred cord across the chest, and a striped, knee-length dhoti.
The image's head is encircled in an aureole decorated in swirling flames. This and the lotus base suggest Pala influences from the period. The image is in keeping with stylistic developments in northern India and particularly Bengal and Bangladesh, where many early cast bronze images of Avalokiteshvara have been found.
The figure has been positioned on the stand in a somewhat whimsical, off-centre fashion.
There is some degradation to the left leg, probably erosion caused by contact with acidic soil, and overall, there evidence of lighter, similar erosion across the image.
References
Pal, P., Indian Sculpture, Volume 2 – 700-1800, Los Angeles County Museum of Art, 1988.
Pal, P., Art from the Indian Subcontinent: Asian Art at the Norton Simon Museum, Yale University Press, 2003.