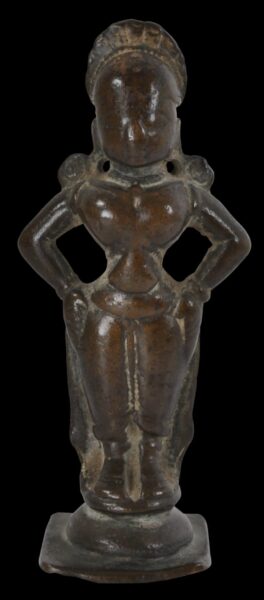 8827
Enquiry about object: 8827
Indian Bronze, possibly Saint Andal or Rukhmini
India circa 15th century
height: 8.2cm, width: 3.7cm, depth: 2.7cm, weight: 105g
Provenance
private collection, UK.
This small image of a goddess is well-worn from ritual puja wear, and yet maintains a quiet elegance from its simplicity.
The figure stands, with hands resting on ample hips. She has a tall, rounded headdress, and a long thin plait running down her back.
It is difficult to identify which deity the image depicts. Possibly it is Saint Andal a manifestation of one of Vishnu's brides, who is usually depicted with a distinctive rounded coiffure rather than a crown, and with a skirt wrapped around her waist rather than a formal sari.
Another possibility is Rukhmini, the consort of Vithoba, a form of Krishna/Vishnu particularly worshipped at the pilgrimage temple of Pandharpur, south of Bombay (Mumbai) and popular in the Deccan. Both Vithoba and Rukhmini are often shown in this pose, with hands on hips and elbows out.
References
David Bennie, pers. comm.
Pal, P., Indian Sculpture, Volume 2 – 700-1800, Los Angeles County Museum of Art, 1988.