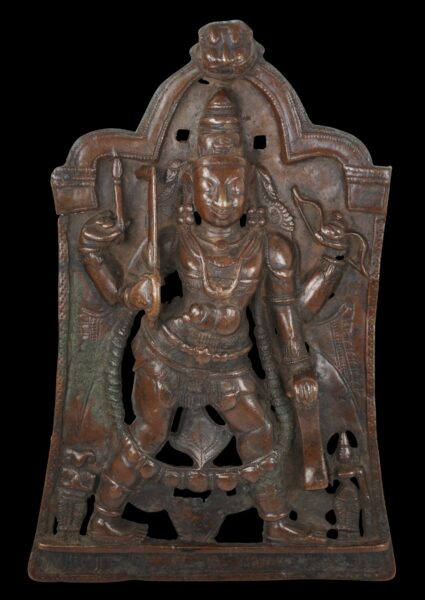 7281
Enquiry about object: 7281
South Indian Bronze Virabhadra Plaque
South India 17th-18th century
height: 21.2cm, width: 14.1cm, weight: 605g
– scroll down to see further images –
This fine, pierced plaque of cast and chiselled bronze shows the of the god Virabhadra.
Virabhadra is shown in this plaque with four arms in which he holds a sword, a shield, a bow, and an arrow. He stands beneath an arch topped with a kurtimukha mask finial.
Daksha, whose human head was replaced with a ram's head, stands on Virabhadra's right, his hands in anjali mudra.
The figure to Virabhadra's left is Bhadrakali, Virabhadra's consort.
Virabhadra's clothing and ornaments are shown in some detail. He has chest ornaments, large earrings, a tiered crown decorated at the front with a Shiva-lingam motif, a skull necklace that falls below his waist, and anklets and bracelets.
Virabhadra, an incarnation of Shiva, was created after Shiva's wife, Sati, was not invited to a great sacrifice given by her father Daksha. Sati, being greatly humiliated, went to the banquet and threw herself on the sacrificial fire. When Shiva heard of his wife's death, he tore a hair from his head and threw it to the ground. Virabhadra, a great hero-warrior, arose from this hair. He cut off Daksha's head in his rage and hurled it into the sacrificial fire. After the other gods calmed Shiva down, Daksha's head was replaced by that of a goat or in this case, a ram. Daksha later became a devotee of Shiva.
Overall, this is a fine example with ample puja (prayer) wear. Most probably it adorned a household shrine or a small shrine within a temple. It has a fine, chocolatey patina.
The plaque is accompanied by a black metal, high-quality, custom-made stand.
References
Pal, P., Art from the Indian Subcontinent: Asian Art at the Simon Norton Museum, Volume 1, Yale University Press, 2003.