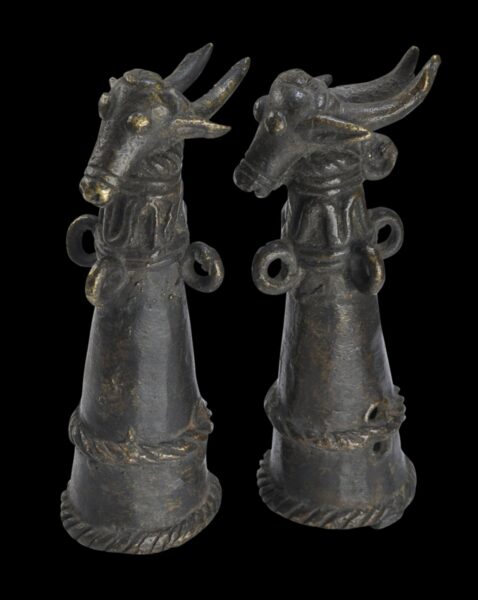 8920
Enquiry about object: 8920
Indian Cast Brass Finials to Decorate the Horns of a Bullock
Central or Southern India 18th-19th century
height: 10.6cm, width: 3.7cm, combined weight: 314g
Provenance
UK art market; private UK collection.
This unusual pair of finials of cast brass was made to slip over the ends (kombu-nuni) of the horns of a bullock to decorate the animal for festival days – essentially it is jewellery for bullocks!
Accordingly, each of the finials is of conical shape and in the form of an bullock head. Holes drilled near the base allowed the finials to be secured to the horn.
A related example attributed to Tamil Nadu is illustrated in Untracht (1997, p. 205).
The pair is in excellent condition with fine patina and obvious age. Such items are rarely seen.
References
Untracht, O., Traditional Jewelry of India, Thames & Hudson, 1997.