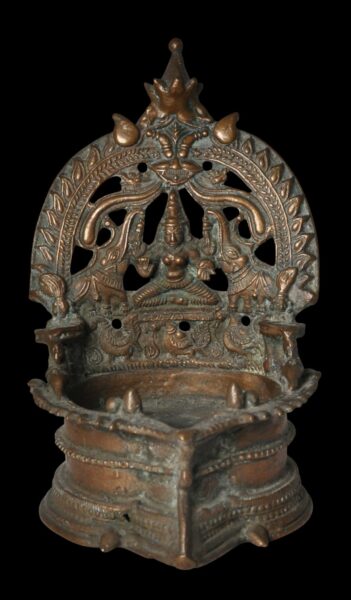 8446
Enquiry about object: 8446
Indian Cast & Pierced Bronze Gajalakshmi Lamp
Tamil Nadu, South India late 18th century
height: 17.5cm, depth: 13.5cm, weight: 1,072g
This bronze oil lamp is cast with Gaja Lakshmi and elephants such that the light from the lamp is thrown off the pierced backplate thereby illuminates the goddess, a meritorious act as it honours the goddess. The trio are surrounded by a finely cast plaited border and sit above an open-work panel of geometric designs.
The lip at the front holds the wick, beneath which is cast a further female deity. This form, typical of Tamil Nadu, has two further figures either side of the bowl. They hold two further lamps both of which have bowls sufficient enough to also each hold a wick and oil and which rest on the head of a parrot. The lip of the lamp is surmounted by two solid cast lotus buds. On either side of the bowl are two rearing lion-like yali figures. The rear is cast with a further Lakshmi and elephants. The arched, serrated frame terminates with a lotus.
The lamp appears to show puja wear – the central Lakshmi figure and floral motif above are worn in a manner that is consistent to devotional wear.
A similar lamp is in the British Museum (inventory no. OA 1989.10-20.1). Other examples are illustrated in Kelkar (1961, fig. 69) and Dehejia (2002, p. 221).
The example here is in fine condition and has a dark patina.
References
Dehejia, V. (ed.), The Sensuous and the Sacred: Chola Bronzes from South India, American Federation of Arts, 2002.
Kelkar, D.G., Lamps of India, Publications Division, Ministry of Information and Broadcasting, India, 1961.