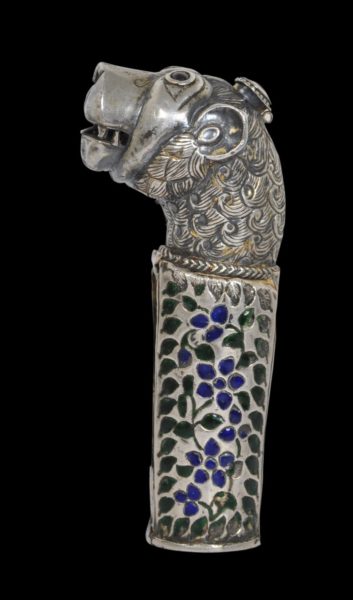 6431
Enquiry about object: 6431
Indian Gilded, Enamelled Silver Lion Dagger Hilt or Staff Handle Inlaid with Rubies
Northern India 18th century
height: 9.8cm, weight: 102g (without stand)
– scroll down to see further images –
This very fine and well-modelled silver handle is in the form of a lion. The lion has prominent ears, a fine mane, and a wide mouth with exposed teeth and a protruding silver tongue.
It has traces of gilding and is decorated with blue and green enamel and inlaid with strips of theva work.
It is also inset with three large rubies in black setting, one for each eye, and one for the crest of the head.
The handle might have been intended for a dagger or a staff or cane handle. It is now mounted on an attractive, black, metal custom-made stand.
The enamel work is arranged as flowers and stripes that are similar in form to the bubri, the stylised form of the stripe adopted by Tipu Sultan, the ruler of Mysore, whose fortified palace was at Seringapatam near present-day Mysore.
Theva work was a type of work only undertaken by Raj Soni goldsmiths from Partabargh in Rajasthan from around 1760. The technique involved incising and then cutting out small designs and patterns from thin 24 carat gold. This then was fused onto glass behind which green and sometimes red foil was attached. The whole then was held in place by silver wire and mounted in gilded silver or gold mounts.
The handle is fitted with a long, full theva-work strip down the back of the shaft. A second strip was inset to the front of the shaft below the lion's chin but only a remnant of this remains intact.
The manner of the enamel work and the gilding suggests an 18th century dating.
References
Keene, M., Treasury of the World: Jewelled Arts of India in the Age of the Mughals – The Al-Sabah Collection Kuwait National Museum, Thames & Hudson, 2001.
Sharma, R.D. & M. Varadarajan, Handcrafted Indian Enamel Jewellery, Roli Books, 2004.
Stronge, S., Tipu's Tiger, V&A Publishing, 2009.
Terlinden, C., Mughal Silver Magnificence, Antalga, 1987.