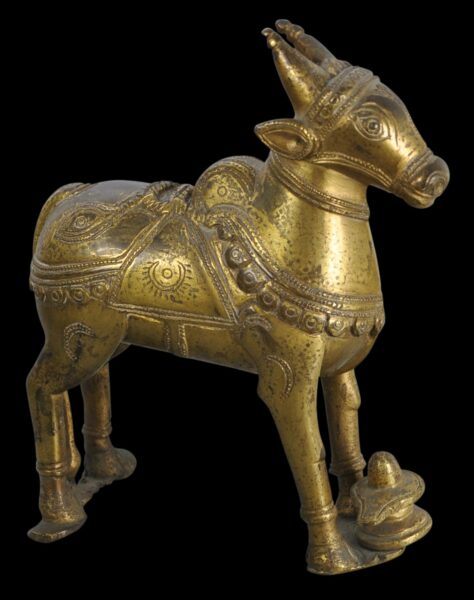 9161
Enquiry about object: 9161
Indian Gilded Bronze Nandi
Northern India 18th-19th century
height: 18cm, length: 14.3cm, width: 6.8cm, weight: 1,327g
This fine image of Nandi, the bull vahana of Shiva, has been cast in bronze, engraved and chiselled with detailing, and then gilded (gold plated). It would have been made for a household shrine or a local temple.
This version of Nandi has exaggerated proportions, especially the legs, to suggest Nandi's potential power. The gilding would have been undertaken as an act of veneration. It is based on an Indian Brahman cow or zebu with its distinctive hump on its back.
The image has between his front legs, a well-cast shiva-lingam, to emphasise the association with Shiva.
The image has prominent and thick horns, and the body is decorated with strands of bells, and other finery. Engraved decoration includes peacock feather 'eyes'.
The tail is runs all the way to the ground, following the stretched legs.
Larger Nandi images often are placed at the entrance of Shiva temples. They have long been associated with fertility, illustrated by the custom of worshippers touching such image's testicles as they file past as they enter the temple, particularly if they wish to expand their family. Accordingly, the image here has particularly large testicles.
The image is in excellent condition and stands firmly and evenly.
References
Bussabarger, R.F. & B. Dashew Robins, The Everyday Art of India, Dover, 1968.