This museum-worthy, rare, double-bell spittoon is of particularly high-grade solid silver. It is thickly walled and so noticeably heavy in the hand, and is austere in its finish, being completely plain, thus allowing the raw, naked beauty of the silver to come to the fore. Such a spittoon would have been used in conjunction with the taking of paan or betel, and undoubtedly was owned by a princely family.
Until this spittoon surfaced, the only example of a double-bell spittoon of plain, solid silver of which we were aware was one illustrated in a large painting executed in 1792 by the colonial artist James Wales on India. The painting, now in the collection of the Royal Asiatic Society of Great Britain and Ireland, London, shows the Maratha Peshwa (hereditary prime minister) Madhav Rao Narayan II,  with Nana Fadnavis (his chief minister) and attendants. Madhav Rao Narayan is shown seated on a cushion throne next to Nana Fadnavis and before them is an assortment of fine objects including a jewelled dagger, a silver rosewater sprinkler, and a silver double-bell spittoon which looks remarkably similar to the example here. Given the scarcity of solid silver spittoons of this form (they are usually either brass or of bidri), it is possible – likely even – that the spittoon illustrated in the Royal Asiatic Society painting and the example here are the same one.
The painting is illustrated in Smith & Jacobi (2015, p. 135).
The example here has an Urdu inscription engraved to the underside of the rim, which translates as 'Sadr Khanoum'. Thus the inscription names the owner. 'Sadr' is an honorific often applied to aristocrats and 'Khanoum' is a woman's name. It has Persian origins and was a name favoured by Mughal Indian royal families as a same for their daughters.
The  Maratha empire was effectively a confederation of Indian states that came to dominate much of the Indian subcontinent in the 18th century. It was responsible for weakening Mughal control over the Indian subcontinent, and between 1680 and 1707, fought a series of wars – the Mughal-Maratha Wars – which lead to the Mughal empire being split into regional kingdoms.
If the spittoon shown in the Royal Asiatic Society painting is the same as the one here, then it is possible that it came into Maratha possession as war booty during these wars.
The spittoon here is in fine condition and is without dents or splits. It has a fine patina and obvious age.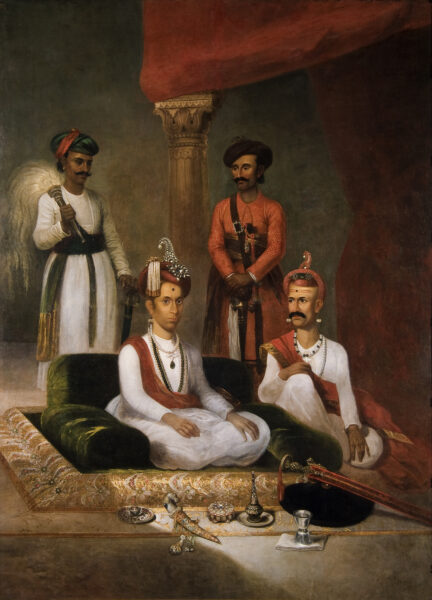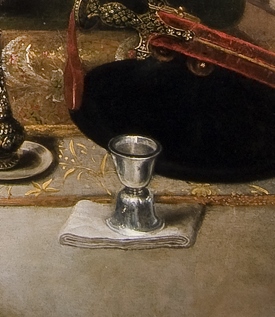 Above: James Wales, 'Madhav Rao Narayan, the Maratha Peshwa, with Nana Fadnavis and Attendants', 1792. The detail of the silver spittoon is shown on the left.
References
Smith, A., D. B. Brown & C. Jacobi (eds), Artist and Empire: Facing Britain's Imperial Past, Tate Publishing, 2015.
Zebrowski, M., Gold, Silver & Bronze from Mughal India, Alexandria Press, 1991.