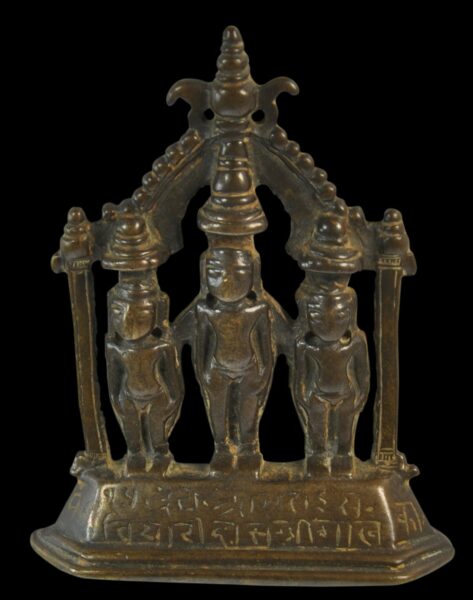 8927
Enquiry about object: 8927
Indian Jain Bronze Inscribed Shrine
Western India 12th-13th century
height: 10.5cm, width: 8.4cm, depth: 3.2cm, weight: 234g
This small cast bronze shrine shows three naked Jinas standing side-by-side in kayostarga. Each stands beneath a parasol and the group is framed by a pair of narrow columns that support an arch surmounted by a kalasha finial. The tapered base on which the group stands is engraved all the way around with two lines of devanagari script. The reverse of the arch is similarly engraved with script.
A much larger version of this type of Jain shrine is in the Los Angeles County Museum of Art.
Occasionally, representations of three Jinas such as this example are referred to as the ratna-traya or 'three jewels'.
Jinas are depicted in only two poses: kayostarga (standing)  or dhyani (seated in meditation). Their lack of clothing symbolises their asceticism and their belief in non-possession. Jain monks however fall into two sects and either are naked (they are the Digambaras – 'clothed by the sky') or they wear limited white cloth to cover their nakedness (the Svetambaras – 'clothed in white').
The shrine here has the most wonderful chocolate patina with contours worn from ritual puja or prayer handling.
References
van Alphen, J., Steps to Liberation: 2,500 Years of Jain Art and Religion, Ethnographic Museum Antwerp, 2000.