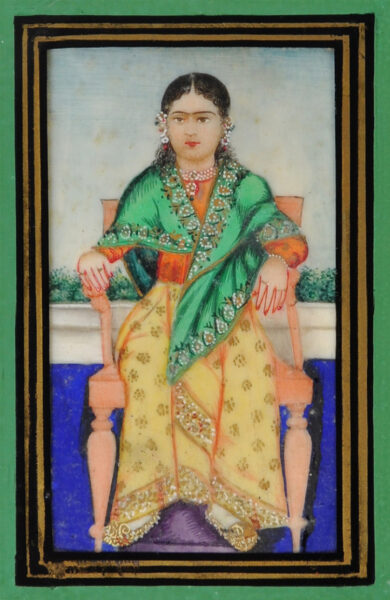 7213
Enquiry about object: 7213
Indian Painting of a Royal Courtesan
India, probably Delhi circa 1850
4 x 6.8cm, with border: 10 x 12.8cm
Provenance
private collection, UK
This fine painting, in polychrome and gold highlights, shows a well-to-do woman sitting on a European-style chair placed on rich blue carpet. She wears a green shawl and a yellow dhoti, jewellery, and a fine pair of slippers decorated with gold-thread zardozi work.
She wears no crown nor excessive jewellery and yet clearly is a woman of status. Accordingly, it is likely that she is a courtesan of a royal court, probably the Mughal court.
The painting is in very fine condition. It retains its original mounts and is under the original thin sheet of glass that it had when it was produced.
References
Dalrymple, W., & Y. Sharma (eds.), Princes and Painters: in Mughal Delhi, 1707-1857,  Yale University Press, 2012.