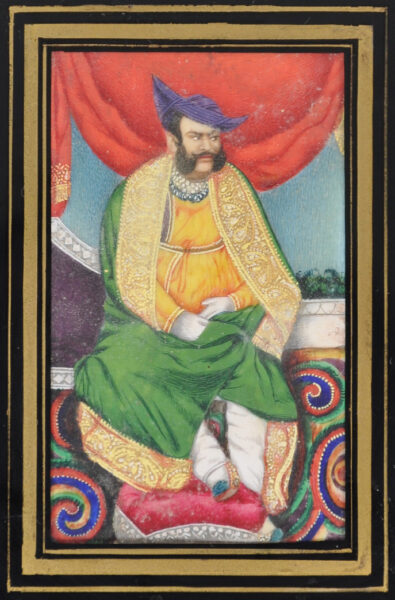 7209
Enquiry about object: 7209
Indian Painting of Jayaji Rao Sindhia, Maharaja of Gwalior
India, probably Delhi circa 1870
8.5 x 5.4cm, with border: 15.3 x 12.8cm
Provenance
private collection, UK.
This full-length seated portrait of Jayaji Rao Sindhia, Maharaja of Gwalior (1835-1886) has been finely painted in polychrome and gold highlights. The Maharaja is shown seated with his feet resting on red-cushioned footstool. He wears the Maratha headdress that is typical of the Gwalior royals.
The painting most likely is a copy of a photograph from the 'Album of cartes de visite portraits of Indian rulers and notables' published by Bourne and Shepherd, in the early 1870s.
Gwalior, now in Madhya Pradesh, was the core of the princely state of Gwalior, which was ruled by the Scindia family in the later half of the 18th century. Jayaji Rao succeeded as Maharaja in 1843. He was close to the British colonial overlords and in 1861 he was created a Knight Grand Commander of the Most Exalted Order of the Star of the Indian Empire, and in 1877 he became a Counsellor of the Empress.
The painting is in very fine condition. It retains its original mounts and is under the original thin sheet of glass that it had when it was produced.
References
Dalrymple, W., & Y. Sharma (eds.), Princes and Painters: in Mughal Delhi, 1707-1857,  Yale University Press, 2012.
Kumar, P., Posing for Posterity: Royal Indian Portraits, Roli Books, 2012.