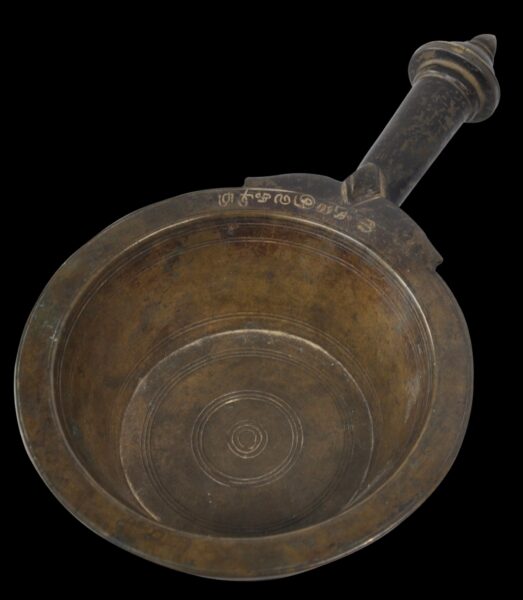 7224
Enquiry about object: 7224
Indian Inscribed, Cast Bronze Ritual (Yajna) Oil Pourer
Tamil Nadu, South India circa 18th century
length: 22cm, width: 12.3cm, depth: 4.6cm, weight: 647g
– scroll down to see further images –
This heavy bronze pan, with a handle, and three small feet has a fine sculptural quality. The interior is decorated with concentric circles and the rim has a Tamil inscription.
Such a vessel was used to tip oil into a sacred fire before which rituals known as yajna were performed. Vedic (Shrauta) yajnas are typically performed by Vedic priests.
Sacred offerings cast into the flames include ghee, milk, grains, cakes and soma. Ghee, being an oil, also helped to keep the fire burning, and it is likely that this vessel was used to pour ghee into the flames.
The inscription is in Tamil, suggesting a provenance from Tamil Nadu.
The pourer has a fine, varying, dark patina and obvious age.
References
Nandagopal, C., & V. Iyengar, Temple Treasures: Ritual Utensils, Vol. 1, Crafts Council of Karnataka, 1995.