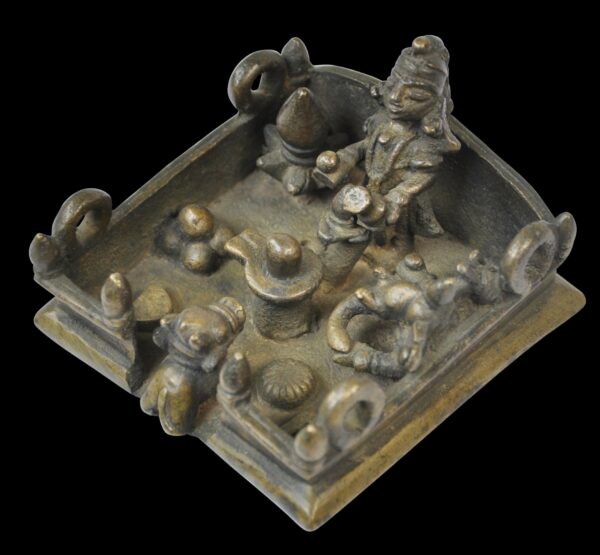 8641
Enquiry about object: 8641
Indian Miniature Shaivaite Shrine
India, probably Maharashtra 19th century
width: 7.2cm, depth: 7.6cm, height: 4.7cm, weight: 303g
The compact, cast bronze shrine represents the theme of Shiva-Linga worship. Various members of the Shaivite 'family' are present around a central Shiva-Lingam. There is the main figure of Shiva, Ganesh, and Nandi.
A cobra rises before Shiva; its writhing tail has been cast into the base of the ensemble.
What appears to be a Mughal-style betel box (pandan) is among the other items to have been cast onto the shrine.
The group is enclosed within low walls to which four lugs have been cast probably to allow the shrine to be suspended.
Such shrines come from the small towns and villages of Maharashtra (the state that takes in Mumbai/Bombay) indicating that these were popular objects of worship in domestic settings. It was customary that these domestic shrines were tended regularly with daily worship and offerings. But rarely are such shrines encountered now.
The example here has a fine, dark patina and is without loss.
References
Aryan, K.C., Folk Bronzes: Of North Western India, Rekha Prakashan, 1973.
Dursum, B., et al, Change and Continuity: Folk and Tribal Art of India, Lowe Art Museum, University of Miami, 2004.