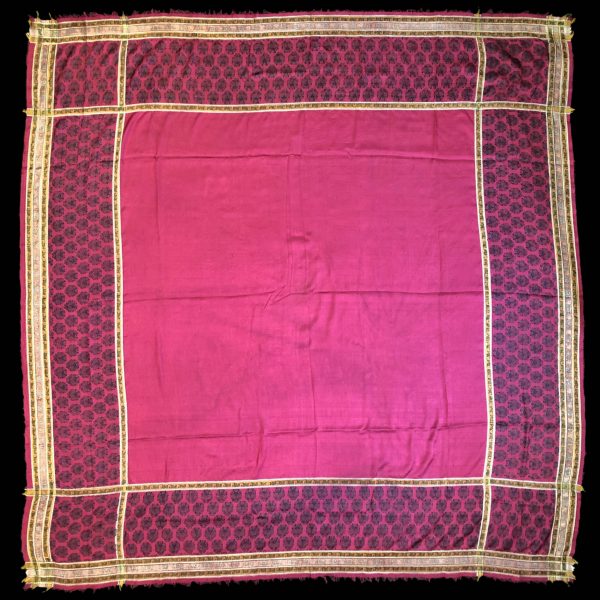 5656
Enquiry about object: 5656
Rare Gujarati Silk Trade Shawl with Rare Tax Stamps
Gujarat, Western India late 18th century
152.5cm x 151cm
This museum-quality, printed silk shawl is important for several reasons.
The shawl is late 18th century and yet is in near perfect condition. It has a red ground with yellow and cream borders. The colouring is fresh and lustrous and shows no fading or other deterioration whatsoever.
The motifs used are rare. We have not found similar published examples.
Finally, the textile has what we believe are rare British import stamps relating to tax collection. These include a cypher – the letters 'GR' for 'George Rex' over which there is a crown and beneath which there is an indistinct date mark which most probably is '179?'  The stamp thus dates the textile to the late 18th century during the reign of George III.
Other numbers stamped to the textile appear to be part of what was known as a frame mark. Such a mark included the dimensions of the cloth. Duty was based on square yards. (Such stamps came about on account of the British Textiles Tax Act of 1774 – the Act specifically requires 'frame stamps' to be applied to 'printed silks, callicoes and linens'.
Eighteenth century tax stamps on imported cotton textiles are known – see for example tax stamp on a mid-18th century blue-resist cotton fabric now in New York's Albany Institute of History and Art is illustrated in Peck (2013, p. 295) – but similar stamps on silk textiles are referred to but none appear to have been published.
The silk shawl here is a remarkable survivor from the India trade period of the  late eighteenth century. The tax stamps it bears, partial as they are, provide rare documentary evidence of the application of such stamps on silk textiles imported from India.
References
Ireland, John, (UK), pers. comm.
Peck, A. (ed.), Interwoven Globe: The Worldwide Textile Trade, 1500-1800, Thames & Hudson, 2013.
Rakob, E.M, S. Shah, & T. Vatsal, Sahib, Bibi, Nawab: Baluchar Silks of Bengal: 1750-1900, Tapi Collection, 2015.
Sykas, P.A., 'Identifying Printed Textiles in Dress 1740-1890', DATS/V&A, 2007.