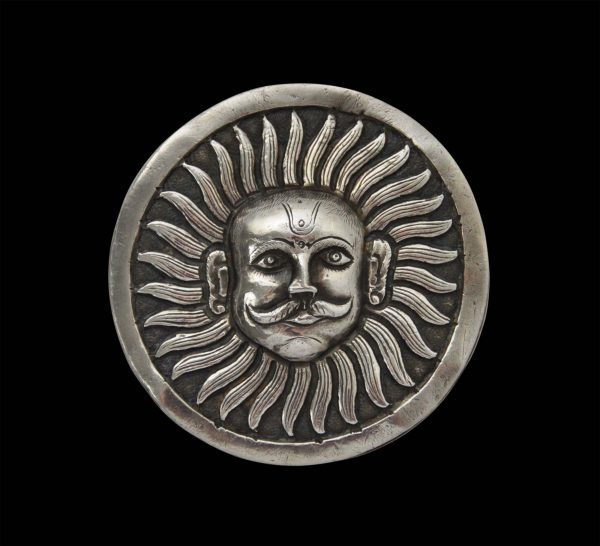 5153
Enquiry about object: 5153
Indian Silver Belt Plaque
India, probably Udaipur (Mewar) 19th century
diameter: 5.8cm, thickness: 0.9cm, weight: 56g
This silver belt ornament comprises two silver discs held together with four silver posts. The front is chased in high relief with a solar motif – a man's face from which flames radiate. The reverse is of plain sheet silver.
Solar motifs are important in Hindu art – the sun represents creation, energy and life.
The symbol is also synonymous with the Hindu princely rulers of Mewar, as Udaipur state was known, who were styled as the Maharanas of Mewar, and so it is likelythat this ornament has as association with the administration of the rulers of Mewar.
A near-identical motif in gold and enamel is used on a necklace attributed to Udaipur in Rajasthan is illustrated in Bala Krishnan & Kumar (1999, p. 247.)
The ornament is in fine condition and yet has obvious age.
References
Bala Krishnan, U.R., & M.S. Kumar, Dance of the Peacock: Jewellery Traditions of India, India Book House Ltd, 1999.