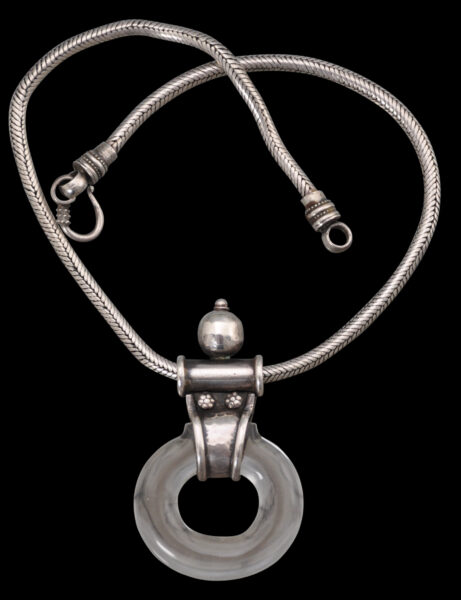 6988
Enquiry about object: 6988
Flexible Indian Silver Chain Necklace (Kamardani) with a Torus Rock Crystal Pendant
Karnataka, India 19th century-early 20th century
length of chain: 47.2cm, length of pendant: 7.7cm, outer diameter of crystal: approximately 4.9cm, weight: 118g
This silver chain element of this necklace has been fabricated from a type of work known as kamardani. It is composed entirely of almost-pure silver and as such is noticeably heavy for its size.
The style of chain is loop-in-loop with a hooked closure. The finished chain is drawn through a drawplate to make it smooth, and then with age and wear, the surface becomes even smoother and supple, a process that is aided by the softness and purity of the silver.
The effect of the flexible, loop-in-loop chain is that its movement imitates that of a snake, which has associations in Hinduism with fertility and creation.
Belts or necklaces of similar silver wire work are illustrated in Untracht (1997, p. 242 ) and Leurquin (2004, p. 143).
Threaded onto the chain is a wonderful silver pendant loop with a large, bud-like finial. The loop holds a donut or torus-shaped pendant carved from natural rock crystal. This has a rectangular section that fits into the metal loop, or can be moved so that it is at the lowest point of the necklace providing an extra element of decorative appeal. The use of rock crystal in an Indian necklace of this period is unusual. Possibly, the rock crystal torus was intended to represent the cosmic sun (light can shine through it) and the silver loop that supports it, the cosmic moon.
Overall, this is a fine, wearable necklace in excellent condition.
References
Leurquin, A., A World of Belts: Africa, Asia, Oceania, America from the Ghysels Collection, Skira, 2004.
Rawson, P., Tantra, Arts Council of Great Britain, 1971.
Untracht, O., Traditional Jewelry of India, Thames & Hudson, 1997.