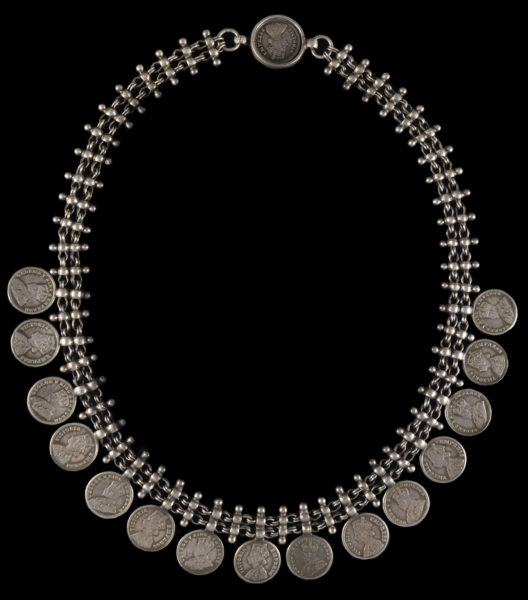 6066
Enquiry about object: 6066
Indian Silver Coin Necklace
India early 20th century (coins dated 1878 and 1915)
length: 50cm, weight: 85g
This wonderful silver necklace comprises a complex, high-grade silver chain from which 16 original colonial Indian one rupee coins are suspended. The coins alternate between the dates of 1878 and 1915 which means that the reverses alternate between images of Queen or Empress Victoria and King of Emperor George V.
The necklace closes with a clever fastener which comprises a rupee coin that slides into a coin-like catch. It then twists holding the necklace closed.
Coins often were used as amuletic or talismanic jewellery in India. Coins are a sign of wealth and are symbolic of prosperity and fertility. The use of government-minted coins in jewellery also might be a sign of a public display of tacit support for the government, in this case, the colonial authorities. The fact that coins prior to 1947 were made of silver rather than other white metal also made them attractive for use in jewellery.
Coin necklaces even had regional names in India – in Rajasthan, for example, they were called rupayar har, and in Tamil Nadu they were known as kasumalai (Untracht, 1997, p. 122).
The necklace here is in excellent condition, is stable and very wearable.
References
Untracht, O., Traditional Jewelry of India, Thames & Hudson, 1997.