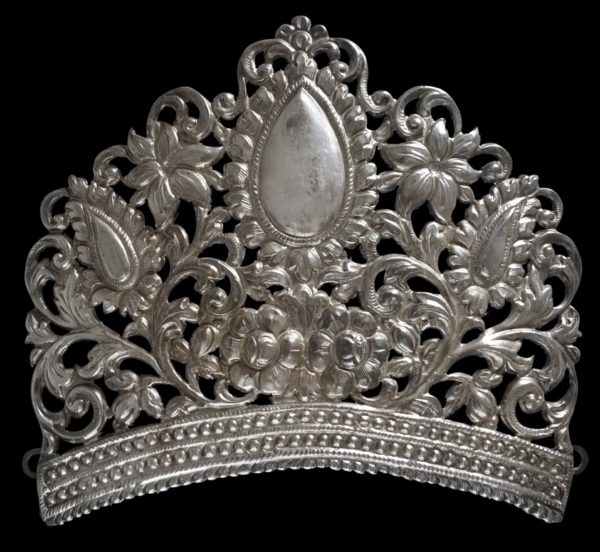 6397
Enquiry about object: 6397
Indian Silver Pierced Crown, probably for a Deity
India early 20th century
width: 21.5cm, height: 17cm, weight: 159g
Provenance
private collection
This silver panel to be attached to the head and worn on the forehead, probably was intended to decorate a Hindu deity, but also might have been worn by a groom on his wedding day.
It is of a single sheet of silver that has been pierced and chased with scrolling floral motifs with a central eye-shaped cartouche that has been left blank
Crowns were worn by Hindu grooms at their weddings in keeping with the idea common across Asia that one is 'royal' for the day, on one's wedding day.
The panel is large and is obviously intended for a man, or for a large image. Indeed, such panels also were used to decorate statues of Krishna and other deities during temple festivities and processions.
The panel has an eyelet on each side to allow it to be attached to a headdress or to an image. The reverse also has a thin central tube into which a peacock feather could be inserted adding further embellishment to the headdress.
The panel is in excellent condition.
References
Terlinden, C., Mughal Silver Magnificence, Antalga, 1987.