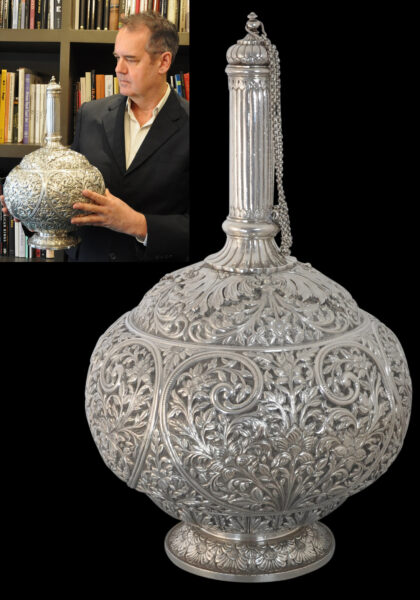 9277
Enquiry about object: 9277
Massive Indian Silver Flask (Surahi)
Rajasthan, India late 19th century
height: approximately 48cm, width: approximately 28cm, weight: 2,980g
This striking and monumental Indian, high-grade, solid silver flask or surahi most probably was made in the late 19th century, in Rajasthan, to decorate one of the many Rajasthan palaces.
It comprises a large, spherical base, a flared foot, a tall neck, and a domed lid attached to the neck by means of a silver chain. The body is chased in high relief with flowers and foliage. The foot is engraved with repeated flower motifs. The neck is slender and gadrooned.
Smaller examples were used to serve wine or perhaps to hold rosewater that was used to refresh the hands of visitors on arrival.
Maharajas, emasculated by the colonial powers, instead of ruling, devoted their time to building new palaces and commissioning artworks to fill them. Large, palatial rooms intended to convey splendour and status, if not power, required large decorative items to fill them. This explains the size, form and proportions of this flask. It was designed to be impactful and to be admired even from a distance – from across a large room or hall.
See Jasol (2018, p. 229) for related silverware from the Jodhpur courts.
The example here is in excellent condition.
References
Jasol, K. et al, Peacock in the Desert: The Royal Arts of Jodhpur, India, The Museum of Fine Arts, Houston, 2018.