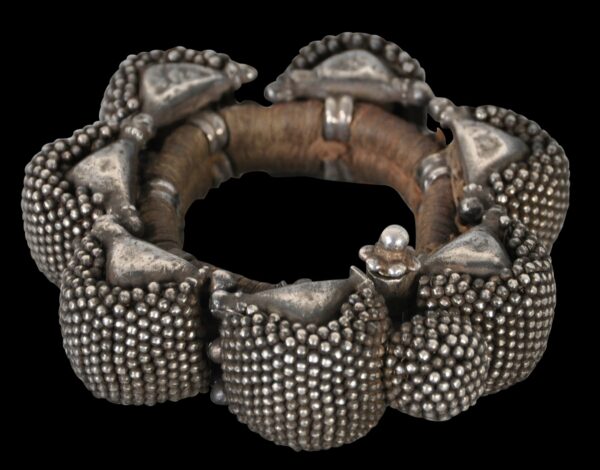 9314
Enquiry about object: 9314
Indian Silver Gajredar Bracelet
Rajasthan, India 19th–early 20th century
internal diameter: approximately 4.5cm, thickness: 2.2cm, weight: 341g
Provenance
private collection, US
This flexible bracelet of high-grade silver is noticeably heavy in the hand. It comprises seven main hinged panels covered in tiny silver spheres (gajre) to the point that the panels are bulbous. The panels are attached to a frame that has been would with thread.
Each of the spheres is rigidly attached by means of a silver wire to the body of the bracelet. According to Utracht (1997, p. 254), the work is known as moti ke gajre guchchha. The spheres are meant to resemble small pearls and are based on bracelets made of enamelled gold and seed pearls in this form which were made in Rajasthan in the nineteenth century. (See Bala Krishnan, 1999, p. 146, for an example.) The clusters of seed pearls used in the more extravagant versions of this bracelet were said to emulate bunched jasmine buds.
An example similar to that here is illustrated in Hoek (2004, p. 136).
The bracelet opens by means of a screw pin.
The bracelet is in fine condition and has obvious age.
References
Bala Krishnan, U.R., & M.S. Kumar, Dance of the Peacock: Jewellery Traditions of India, India Book House Ltd, 1999.
Barnard, N., Indian Jewellery, V&A Publishing, 2008.
Hoek, C., et al, Ethnic Jewellery: From Africa, Asia and Pacific Islands, Pepin Press, 2004.
Utracht, O., Traditional Jewelry of India, Thames & Hudson, 1997.