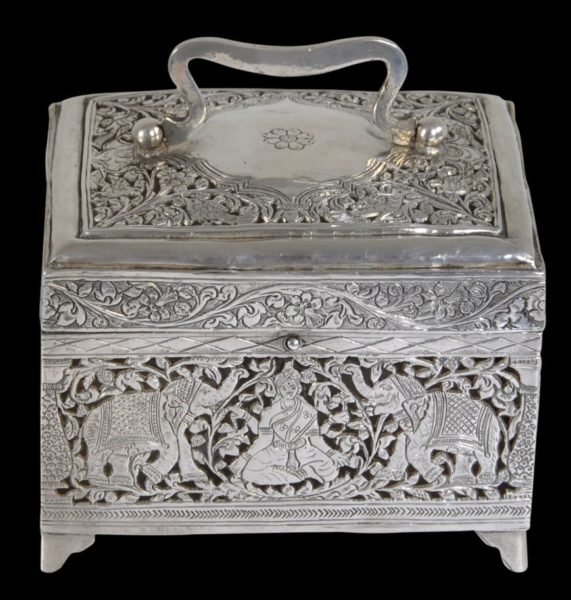 6455
Enquiry about object: 6455
Indian Pierced Silver Perfume Box
Northern India 18th century
width: 12cm, height: 9.5cm, depth: 9.4cm, weight: 398g
This finely pierced and engraved box of high-grade silver probably was intended to hold small perfume bottles inside, or might have been used to hold betel or paan.
It sits on four feet, has a slightly domed, hinged cover and a solid cast handle attached to the lid.
Each side and the cover have been pierced. The front is decorated with the goddess Laxmi or Lakshmi who is being ritually bathed or lustrated from the trunks of two elephants. She sits cross-legged beneath an aureole or cusped arch of foliage.
The side and back panels show pairs of peacocks on either side of a vase from which flowers cascade.
The base is of undecorated, hammered sheet silver.
The box is in excellent condition. The lid closes firmly and evenly. The silver has a softness consistent with age and use.
References
Terlinden, C., Mughal Silver Magnificence, Antalga, 1987.