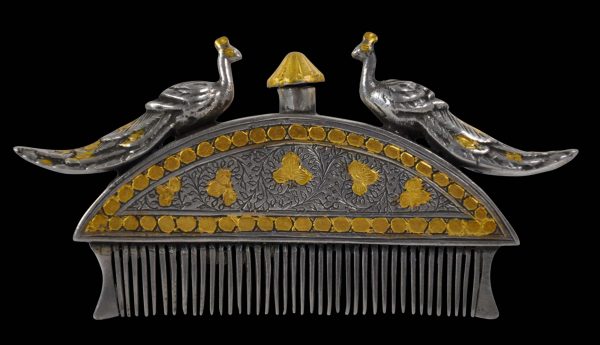 5539
Enquiry about object: 5539
Indian Parcel-Gilded Silver Perfume Comb
India 19th century
length: 8.2cm, height: 4.2cm, weight: 43g
This fine comb of silver with parcel-gilding or part decoration using mercury-fire gilding or gold-plating most probably is from South India. It would have been used to keep an elaborate coiffure in place and as such can be considered as an item of jewellery as much as being a utilitarian piece.
It has a tapering form and is surmounted by a pair of peacocks which face one another but with a gilded screw finial between them. This unscrews (anti-clockwise) to allow the body of the comb to be filled with perfume which would be slowly released into the hair via tiny holes between the teeth of the comb.
Traditionally, peacocks are symbols of beauty and love.
Both sides of the comb are engraved with floral scrolls within a parcel-gilt border.
The comb is in excellent condition, and with ample signs of age and use.
References
Aitken, M.E., When Gold Blossoms: Indian Jewelry from the Susan L. Beningson Collection, Asia Society & Philip Wilson Publishers, 2004.
Bala Krishnan, U.R., & M.S. Kumar, Dance of the Peacock: Jewellery Traditions of India, India Book House Ltd, 1999.
Bala Krishnan, U.R. et al, Icons in Gold: Jewelry of India from the Collection of the Musee Barbier-Mueller, Somogy, 2005.
Borel, F., The Splendour of Ethnic Jewelry: From the Colette and Jean-Pierre Ghysels Collection, Thames & Hudson, 1994.