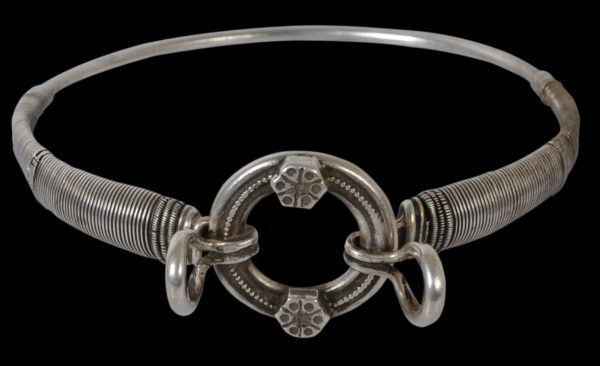 6333
Enquiry about object: 6333
Indian Silver Wire Torque (Hansli)
Rajasthan or Gujarat, India 19th century
diameter: 19cm x 17cm, weight: 396g
This neck ring or torque comprises a heavy silver rounded rod over which silver wire has been wrapped. It meets at the front with a roundel decorated with applied flower motifs. The arms of the rod go through the roundel, one of which springs out and thus the torque can be opened to allow it to be worn.
Related examples are illustrated in Untracht (1997, p. 229) and Leurquin (2003, p. 222).
According to Leurquin (2003, p. 432) the torques were worn by brides and the weight of the silver was included in the bride-price.
The example here is wearable. There is obvious age and some wear to the silver wire on the interior of the torque.
References
Leurquin, A., A World of Necklaces: Africa, Asia, Oceania, America from the Ghysels Collection, Skira, 2003.
Untracht, O., Traditional Jewelry of India, Thames & Hudson, 1997.