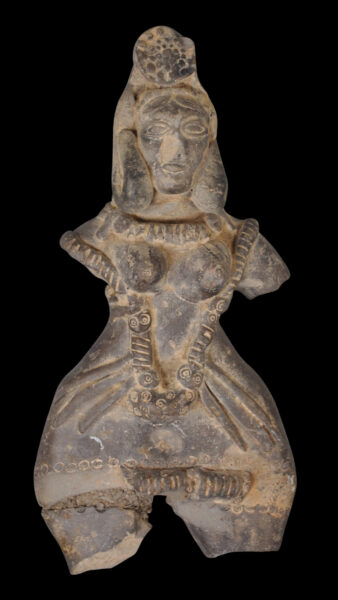 7005
Enquiry about object: 7005
Early Indian Terracotta Mother Goddess
Mathura District, Uttar Pradesh, Northern India 200-300BC
height: 18.2cm, width: 8.6cm, weight: 420g
This image of the Mother Goddess in grey terracotta is more than 2,000 years old. It follows conventional form: the figure is shown with out-stretched arms, ample hips, a deep naval, prominent breasts and copious jewellery, including massive coiled earrings, several huge necklaces, and a thick girdle. The dress has been decorated with punched circlets.
The headdress has a large floral disk in the style favoured in the Maurya and Shunga empires.
The face and headdress have been moulded but all the other features have been hand-modelled and applied.
Possibly such images were worshipped so that they would bring prosperity. A large number were produced suggesting that they were used for personal devotion.
The cult of the Mother Goddess has been prevalent in India for thousands of years. The practice celebrates what was seen as the main female attributes: fertility, motherhood, and the bringing of prosperity.
Such images of the Mother Goddess often are collected by jewellery collectors to show early examples of ample jewellery-wearing in India.
A related example is in the National Museum of India and illustrated in Gupta (1985, p. 61). Other examples are illustrated in Seligman & Balakrishnan (2017, p. 31), Sharma (1994, p. 45) and Bala Krishnan & Kumar (1999, p. 59). An example is also in the Metropolitan Museum of Art.
The example here has losses, consistent with age and other example. What remains is stable and intact. The piece was acquired in the UK and most probably has been in the UK since colonial times when examples were brought back from India as souvenirs by colonial administrators and their families.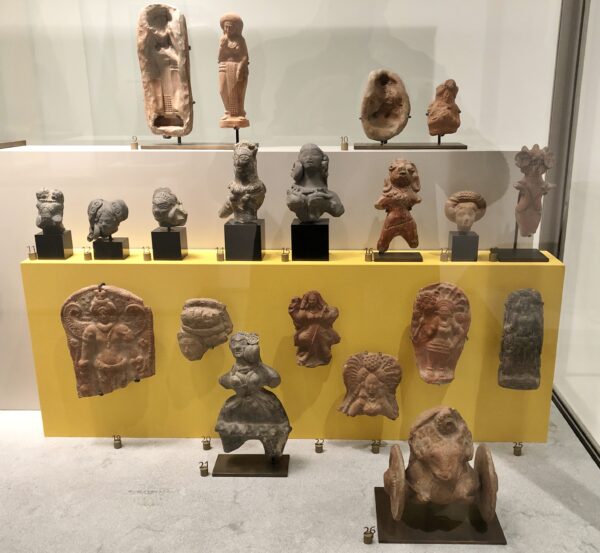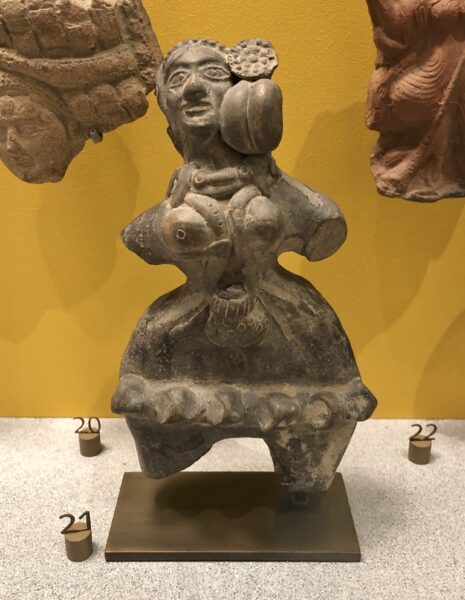 Examples displayed in the Musée National des Arts Asiatiques-Guimet (Guimet National Museum of Asian Arts.) in Paris.
References
Bala Krishnan, U.R., & M.S. Kumar, Dance of the Peacock: Jewellery Traditions of India, India Book House Ltd, 1999.
Gupta, S.P. (ed.), Masterpieces from the National Museum Collection, National Museum, New Delhi, 1985.
Seligman, T., & U. R. Balakrishnan, Enduring Splendor: Jewelry of India's Thar Desert, Fowler Museum at UCLA, 2017.
Sharma R.C. et al, Alamkara: 5000 Years of Indian Art, National Heritage Board (Singapore)/Mapin, 1994.