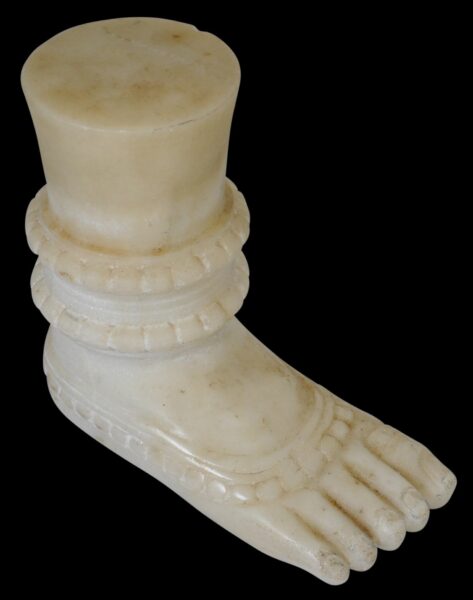 8689
Enquiry about object: 8689
Indian White Marble Votive Offering Shaped as a Foot
India 19th century
height: 18.4cm, length: 19.9cm, width: 8.7cm, weight: 3,608g
This foot and lower leg is carved from white marble. Such an item most likely was intended as a votive offering.
It is carved with two anklets, and upper foot chain, and a toe ring for the big toe. Each toe and toe nail is finely rendered.
Much importance is attached to bare feet in ritual Hindu practice. It is a sign of humility and respect, and also submissiveness to the deity being worshipped. It is also a sign of respect to the earth upon which the person is walking. The foot is the part of the body that connects the person to the earth, which is considered the sacred mother of mankind and life more generally.
As a consequence, models of feet were offered to temples as votive offerings. The item might also have served as a Vishnupada or a tantric representation of Vishnu's foot.
The pada-puja or the worship of the foot or feet, has a long tradition in India. The practice seems to have originated with Buddhism. The Buddha, before attaining Nirvana, forbade his followers from personal worship, so his followers introduced various symbols which represented him and which could become the subjects of their devotion. The representation of his footprint being one such symbol and now many if not most sites of Buddhist worship feature representations of his feet. Some hundreds of years later, perhaps abound the fifth century AD, followers of Vishnu adopted representations of Vishnu's feet (Vishnupada) as part of their rituals, most particularly in Rajasthan.
The item is in fine condition. There are very minor chips to some edges but these should be expected.
References
Jain-Neubauer, J., Feet & Footwear in Indian Culture, Bata Shoe Museum/Mapin, 2000.